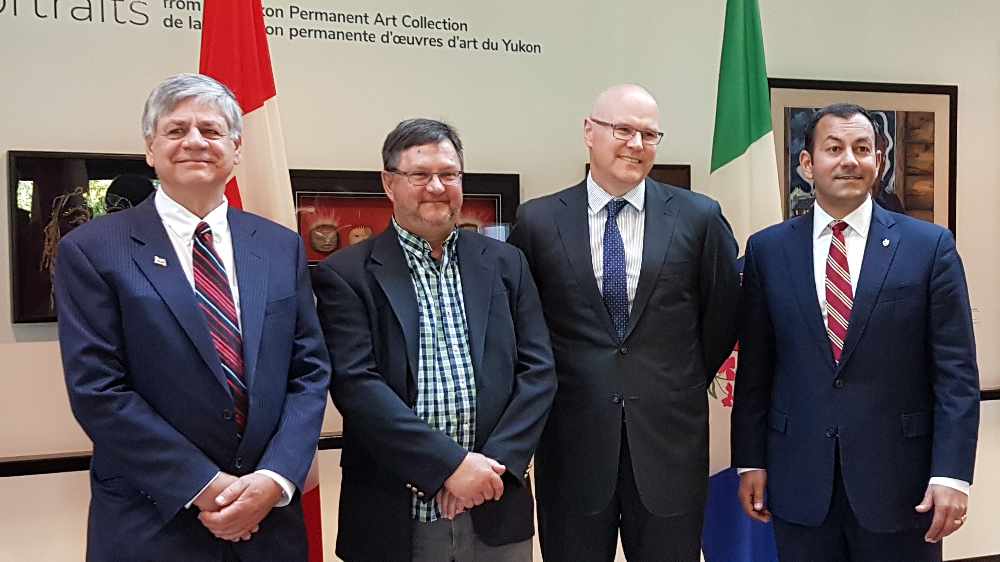 (L to R) MP Larry Bagnell, Victoria Gold's John McConnell, Yukon Energy CEO Andrew Hall, and Yukon's EMR Minister Ranj Pillai are all smiles after Thursday's announcement. Photo: Tim Kucharuk/CKRW.
The federal and territorial governments are partnering with Yukon Energy to upgrade the Stewart-Keno transmission line and on renewable energy storage in Whitehorse.
Two projects which are slated to reduce greenhouse gas emissions in Yukon are getting the green light with help from the federal government.
MP Larry Bagnell announced Thursday $39.2 million is going to overhaul 31 kilometres of the Stewart-Keno Transmission Line, and for a new battery system in Whitehorse to store excess renewable energy generated during off-peak hours.
Bagnell says the funding approval was not up to him. With an election around the corner, he defended the timing of the announcement.
"I've lobbied for a year for (the projects) so it isn't special at this particular time, this is when it finally got finished," Bagnell told those gathered in the lobby of the Yukon Government's Main Administration Building. "The good thing about the announcements we've made, now we're doing signed deals so regardless of what happens on October 21st, these projects will go ahead."
Yukon Energy President and CEO Andrew Hall says replacement of the 60-year-old line will hook into a line feeding Victoria Gold's Eagle Gold Mine by late next year.
"It's a driver, but we needed to replace this line regardless," Hall said. "Otherwise, we were facing an alternate scenario of basically decommissioning the line and putting Keno back on diesel which no one wanted. For the long-term industrial future of that area, having transmission is key."
Energy, Mines and Resources Minister Ranj Pillai calls the projects two significant additions to Yukon's energy system. He said the new line will help industrial users like Victoria Gold, and the battery system will make the overall system more reliable.
The Whitehorse battery project will see power stored at night time hours for use during the day. It will see an eight-megawatt battery with the energy storage capacity of 40 megawatts, which would be one of the largest connected to a grid in Canada. That project should be completed by 2022.
Yukon Energy and the territorial government are contributing almost $20 million to the projects.