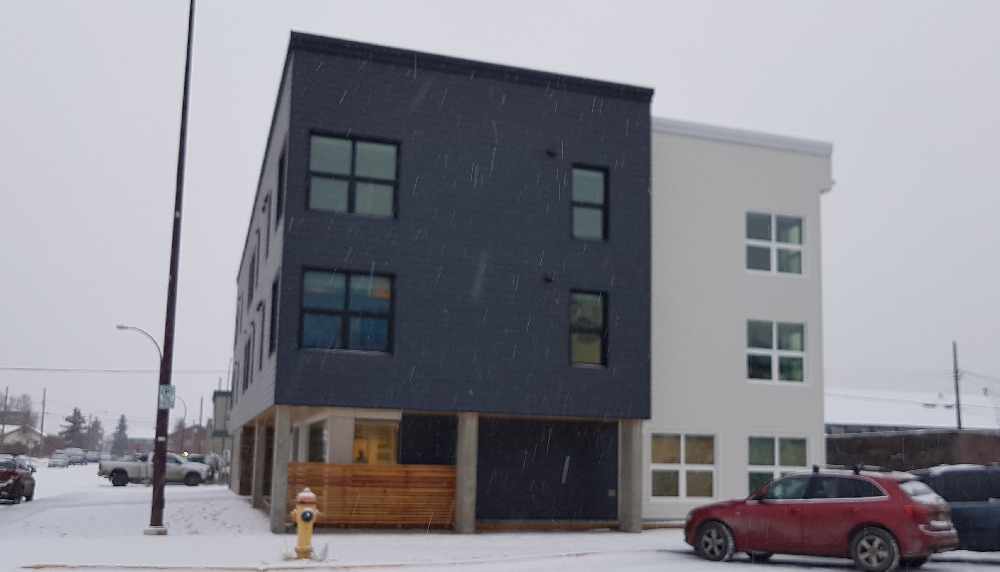 The Housing First building at 5th Avenue and Wood Street. Photo: Tim Kucharuk/CKRW file.
After a ribbon-cutting ceremony in November, the 16-unit building in downtown Whitehorse has yet to welcome residents due to 'unforeseen' delays.
The Yukon Government says there are delays with getting residents into a Housing First project in downtown Whitehorse.
The 16 unit building was supposed to welcome its first residents at the end of November. However, Pat Living with Health and Social Services says there have been some delays with the security and communication systems for the building at Fifth Avenue and Wood Street.
She says the move-in is on hold until specific parts arrive to fix the issue.
"Obviously we would have like to have had people in much sooner, but this was just one of those things that occurred," Living said. "For the safety and security both of residents and staff we need to have the communications and security (system) up and running. So we have to wait until that's in place."
Living says the delay was unforeseen. She says efforts are being made to move residents in on a staggered basis starting at the end of February.
"Best practice dictates that we only do one or two at a time," Living said. "We may have a couple of people moving in one week, then maybe three the next so it does get staggered and people have a chance to get used to the building before we add more in."
The $4.2 million project is aimed at providing permanent housing to vulnerable people.
Opposition Yukon Party Reaction
The leader of the Opposition Yukon Party says it is disturbing nobody has moved into a much-needed Housing First project in downtown Whitehorse.
The Yukon Government confirmed this week there's an issue with the security system which is causing a delay in getting residents into the building, even after a ribbon-cutting ceremony in November.
Stacey Hassard says besides being about $1.6 million over budget, the project is way over its scheduled opening date of June 2019.
"It's pretty obvious that this government and this minister in particular just don't have a handle on things," Hassard said. "It's another case of them showing up for the ribbon-cutting and the cake-eating but not following through and ensuring that the project is actually doing what it's supposed to do."
Hassard says he understands there are project delays but the minister should have known the situation before cutting the ribbon in November.
"If she didn't know, that's more concerning yet," Hassard said.
(Updated with YP reaction on Wednesday at 12:00 p.m.)