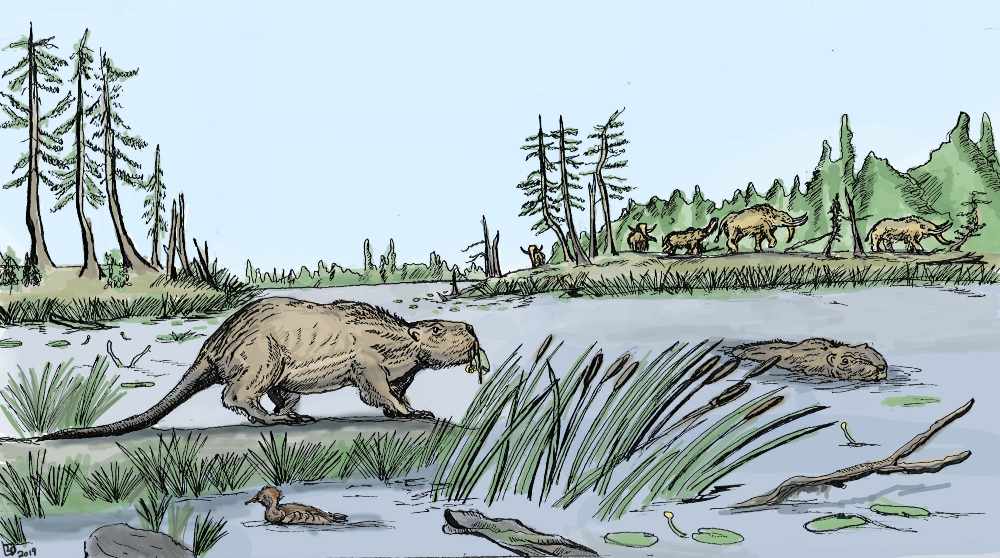 The Giant Beaver (Castoroides) weighed as much as 220 pounds-- roughly the same size as a small black bear. Illustration by Luke Dickey/University of Western Ontario.
A just-released University of Western Ontario study involving a Yukon palaeontologist finds a lack of wood consumption led to the extinction of the rodent.
Findings of a new study involving a Yukon palaeontologist has found giant beavers which used to roam around North America before the ice age only ate weeds and submerged plants, but not wood.
Dr. Grant Zazula teamed up with researchers from the University of Western Ontario to carbon study about 70,000-year-old fossilized giant beaver bones found in the Old Crow Flats area.
"Almost like when you see a moose sticking its head under the water and eating those pond weeds, that's exactly what these giant beavers were doing," Zazula said. "They weren't eating trees at all, which is kind of strange because they had these huge teeth which seem like they would be perfect for cutting down trees."
Zazula says not eating wood led to the demise of the six-foot-long 220-pound creatures when the ice age hit.
"These giant beavers that lived in these ponds and small lakes, they were eating all these aquatic vegetation they died out when that climate change happened," said Zazula. "These were animals that just couldn't respond to that change in the cold, that transition to the cold climate."
The study also found giant beavers went extinct in Yukon 20,000 years ago, and 12,000 years ago in the rest of the continent.
The new findings were first published Thursday in the Journal of Nature.
(The study focused on two fossils. One found in Ohio, (left) and another from the Old Crow Flats. (right) Photo: Tessa Plint/University of Western Ontario.)