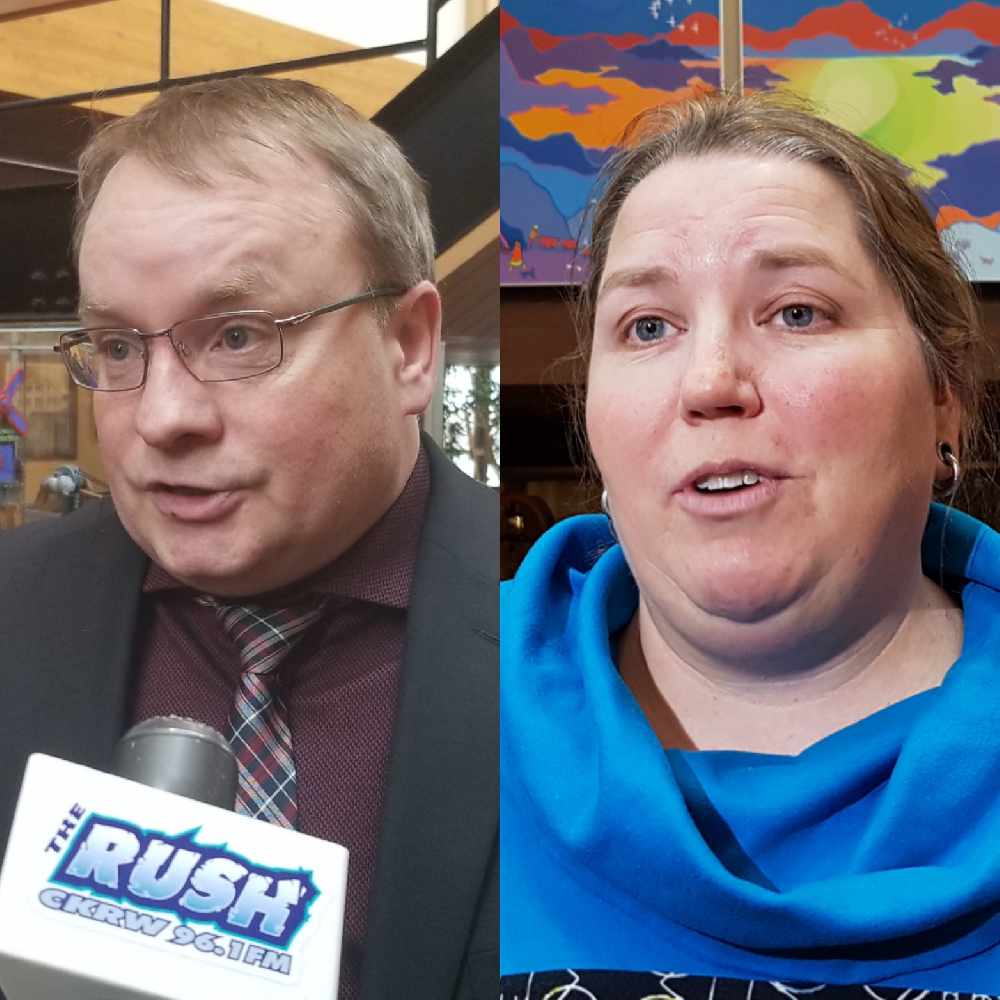 Yukon Party MLA Scott Kent (left) and NDP Leader Kate White. Photos: John Kennedy/Tim Kucharuk/CKRW.
Both Opposition Parties say questions still remain after Thursday's announcements; AFN Yukon, Taku River Tlingit put out messages; meat company makes donations.
The Official Opposition Yukon Party says while Yukon Government announcements on economic supports were important, there are still other items where the Liberal government is falling short on.
Copperbelt South MLA Scott Kent says he's hearing from residents their concern over the lack of information when it comes to the self-isolation of health care workers who have returned from travel but haven't isolated for 14 days.
"Obviously they are extremely important during this time," Kent said. "Perhaps there's a way they can get tested. We would certainly like to get a little more detail from the government on that."
Kent says there's also a lack of information about highway controls, noting there's only been a Tweet about stopping vehicles and giving them information when they enter Yukon.
"If there's going to be that kind of decision-making you would think it would be communicated upfront with Yukoners," Kent said. "That's one of the biggest things were we are seeing the premier and his cabinet colleagues fall down is on communications."
He also laments the lack of regular briefings for both opposition parties.
Meantime, the NDP thinks the Yukon Government's economic support announcements are the bare minimum and more could have been done to support Yukoners.
Leader Kate White says the new paid sick-leave rebate program for Yukon workers is a big relief for Yukon workers, but a lot of questions remain.
"How are they going to calculate things for folks in the gig economy and people who are self-employed," White said. "There's lots of questions, but there (are) also concerns because (of) sick-leave (and) some of the definitions that have been used. If you need to go into self-isolation does that count if you haven't been sent home?"
She says it's a big relief to hear that doctor's notes are no longer required to go on sick leave, but more questions still remain.
White says the renter protection announcement is a good step in the right direction but requires more conversation about how tenants and landlords will be supported.
She also says the aviation fees being waived is not where the government should be focusing its efforts right now.
AFN State Of Emergency
This week, the Assembly of First Nations declared a state of emergency over the COVID-19 pandemic, and the Yukon regional chief says this is to not only support individual nations who have made the declaration but to free up resources.
Kluane Adamek says it's also to get all levels of government to recognize the importance of the pandemic on First Nations communities.
"We know how many rural communities (there are) and the remoteness factor in terms of accessing services, and what health care looks like in small communities is very different than what it is in urban centres," Adamek said.
Adamek says AFN committees are meeting on a weekly basis, and meetings have also been held with the Yukon Government.
She encourages everyone, including youth to listen to the Chief Medical Officer of Health. Adamek thanks health care and essential workers for keeping us healthy.
Taku River Tlingit Message To Residents
The Taku River Tlingit First Nation in Atlin is encouraging its residents to support steps to reduce the spread of COVID-19.
The First Nation is recommending people avoid non-essential travel to and from Atlin.
A notice says essential travel from 5-mile and Wenah to Whitehorse are required to self isolate for 14 days upon their return.
There's also travel restrictions into 5-mile with residents and members only allowed.
Meat Meets The Food Bank
A Yukon meat company is coming together to help the Whitehorse Food Bank.
Matt Douglas with Yukon Born and Raised Meats says for every $100 of meat sold, it will donate 10 pounds of meat to the Food Bank.
Douglas says the decision was made after visiting the Food Bank last week. He noticed no meat was being distributed.
"So we decided as a company that we wanted to try and fix that," Douglas told the RUSH. "Get some local born and raised meat. Everything that is local right here from the Yukon and get it into the hands of some of these people who are probably lacking some of those proteins."
Douglas says the donations will run until the end of April.
Food Bank Executive Director Dave Blotter estimates the food bank has experienced a 30 percent increase in visitors over the past week.
(With reporting by John Kennedy.)