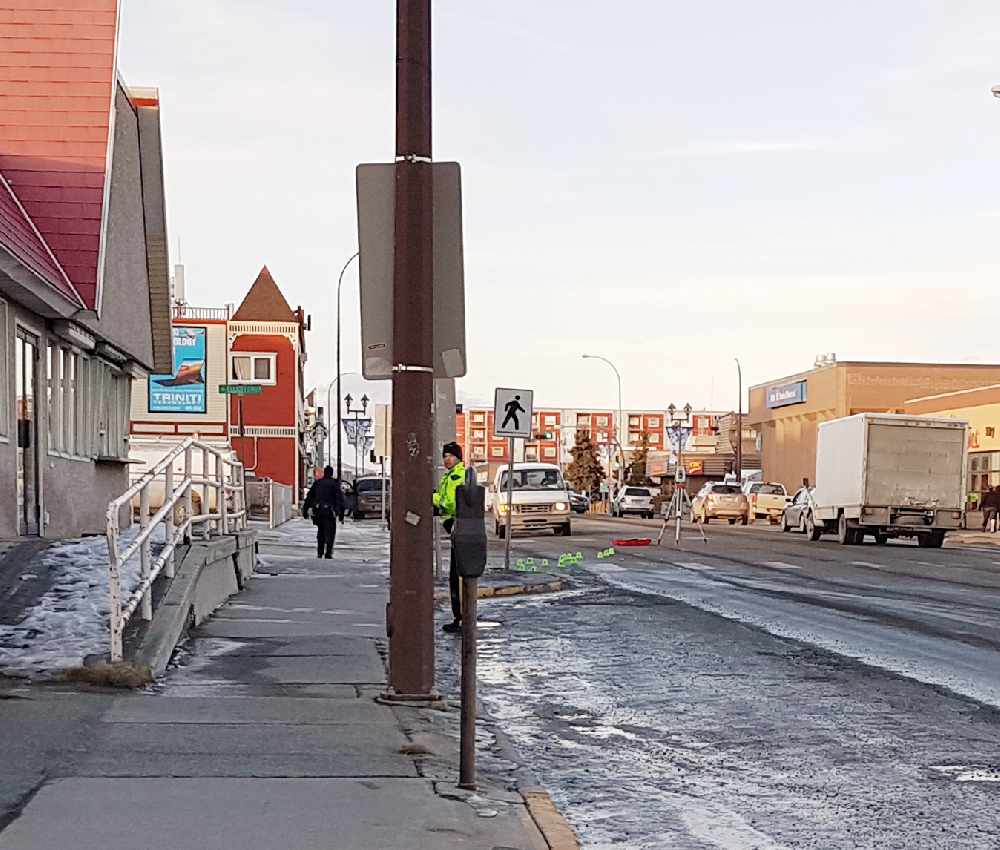 RCMP were on scene investigating for the better part of Thursday afternoon. Photo: Tim Kucharuk/CKRW.
Police and the coroner say a man died after being hit by a pickup truck on Second Avenue at Elliott Street on Thursday.
Whitehorse RCMP confirm a man has died after being hit by a vehicle.
In an update from late Friday morning, police say the victim was in a signed crosswalk at an uncontrolled intersection on Second Avenue at Elliott Street when he was struck by a vehicle that failed to stop at the crosswalk.
Police say the man, who the coroner identifies as 48-year-old Merle Gorgichuk, was taken to hospital where he succumbed to his injuries.
RCMP add the driver and passenger of the vehicle involved were not hurt. The coroner says the vehicle which hit the pedestrian was a pickup truck.
Police say the investigation is ongoing with the assistance of Traffic Services and the coroner. There's no word on any possible charges.
(This is an updated story. The previous version is below.)
____________________
More information should be forthcoming Friday from RCMP about a man who was struck and killed while crossing a downtown Whitehorse street.
Police and ambulance crews were called to Second Avenue and Elliott Street just before noon Thursday.
An eyewitness tells the RUSH a man was crossing the street near Tim Hortons when he was hit by a southbound car.
RCMP on scene confirm to the RUSH the man had passed away.
The road was closed for about five hours as police investigated.
(This is a breaking news item which will be updated as warranted.)
Second Avenue between Main and Elliott in #Whitehorse is closed after a pedestrian was hit. One person taken to hospital. No word on injuries. RCMP on scene investigating. pic.twitter.com/KFV9zYwAgY

— Tim Kucharuk (@TimKucharuk) November 21, 2019