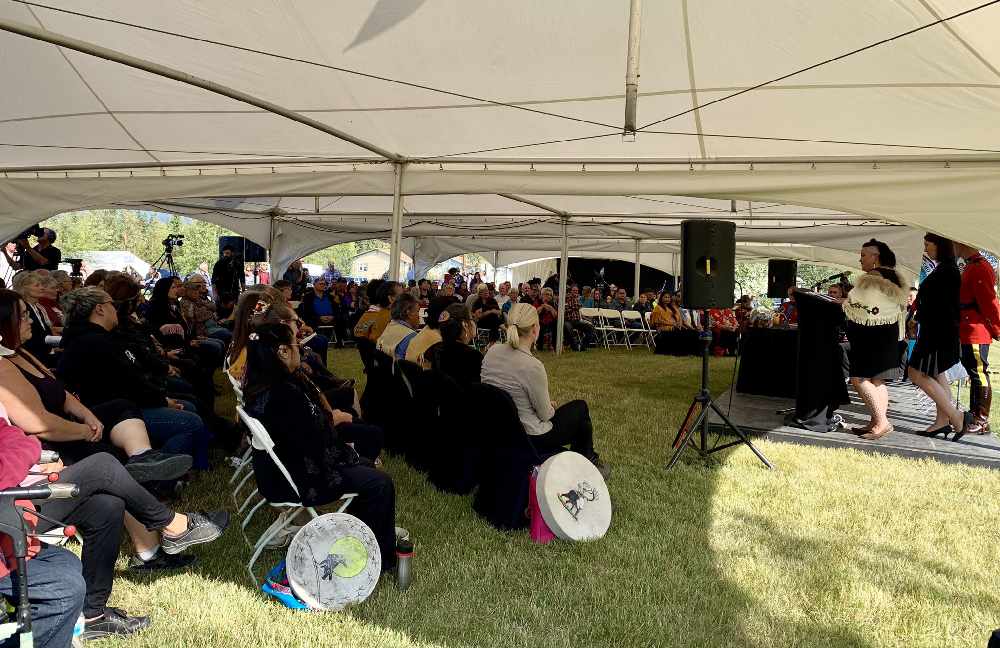 Yukoners gathered to witness the signing of the Peel Regional Land Use Plan. Photo: Yukon Government.
Yukon Government, First Nations sign a land use plan for the Peel Watershed 15 years in the making.
Yukon's second regional land use plan as mandated in long-ago signed First Nation Umbrella Final Agreements was finalized in Mayo on Thursday afternoon.
Yukon Premier Sandy Silver was joined by four First Nations in signing a final Peel Watershed Regional Land Use Plan. Silver told those gathered this is not the end of the journey, it's the beginning.
"Thank you for building a respectful government to government relationship. Tr'ondëk Hwëch'in, Vuntut Gwitchin, Na-Cho Nyäk Dun, and the Gwich'in Tribal Council have all allowed us to be open and honest with each other even though we've had challenging and important discussions. I truly thank you all for that."
Federal environment minister Catherine McKenna was on hand. She said it is a historic day for both Canada, and the Yukon, and looks forward to coming back to the territory with her Children to do come canoeing in the Peel region.
The final details of the plan were released as well during the ceremony. 67,431 square kilometres of ecologically-sensitive land in northeastern Yukon, or 83% of the region, is protected from development on a full or interim basis.
The breakdown of protection has six Special Management Areas making up 55 percent, with four wilderness areas covering 25 per cent, two wilderness areas designated for Boreal Caribou which makes up 3 per cent. Four Integrated Management Areas for development make up the final 17 per cent.
The years-long saga of drawing up the Peel Regional Land Use Plan--which included a Supreme Court of Canada legal battle--ended with celebrations from all parties involved along the Mayo waterfront into Thursday evening. A celebration was also held in Whitehorse.
About 30 people gathered at @KDCulture in #Whitehorse for the #PeelWatershed Regional Land Use Plan Signing Ceremony in Mayo. pic.twitter.com/ocSS8QeWF3

— Tim Kucharuk (@TimKucharuk) August 22, 2019