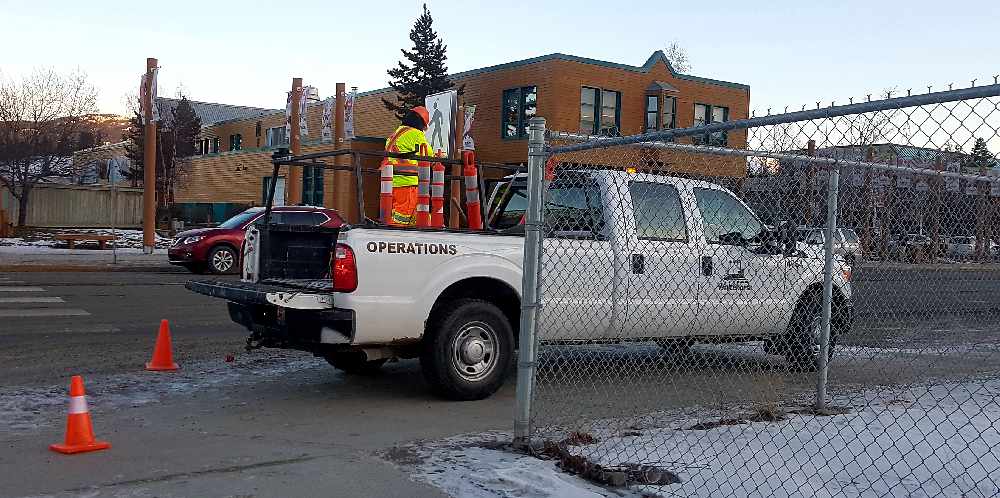 A City of Whitehorse worker installs a new pedestrian crossing sign on Second Avenue on November 28th. Photo: Tim Kucharuk/CKRW.
A City Councillor is bringing up safety issues on the road after a pedestrian was hit on November 21st; administration says safety will be addressed in both short and long-term plans.
One Whitehorse City Councillor says actions need to be taken to make Second Avenue safer.
Laura Cabott brought up the issue at Monday night's meeting after a man was struck and killed by a pickup truck near Elliott Street on November 21st.
Cabott says many characterize Second Avenue as a dangerous road that requires action.
"(The road is) very incomparable in my view," Cabott said. "Having it as a major thoroughfare with a number of vehicles travelling very fast along there, but also in a place where we welcome people and we want people to come and spend time."
Development Services Director Mike Gau says in the short term, a Second Avenue Corridor Study will be completed within a month, while a long-term plan is also on the way.
"The city-wide Transportation Master Plan will be addressing (safety) as well," Gau said. "It'll provide a 20-year plan for transportation infrastructure projects. We have a short-term plan, and a long-term plan, and we hope to have some action items soon."
Cabott says while more pedestrian signs have been put in place since last week, the city could look at more flashing lights or a reduction of the speed limit as immediate actions.
She says right now the fact is Second Avenue is not a safe street.
Gau told council some capital budget items as recommended by the corridor study could be coming forward as soon as next year.