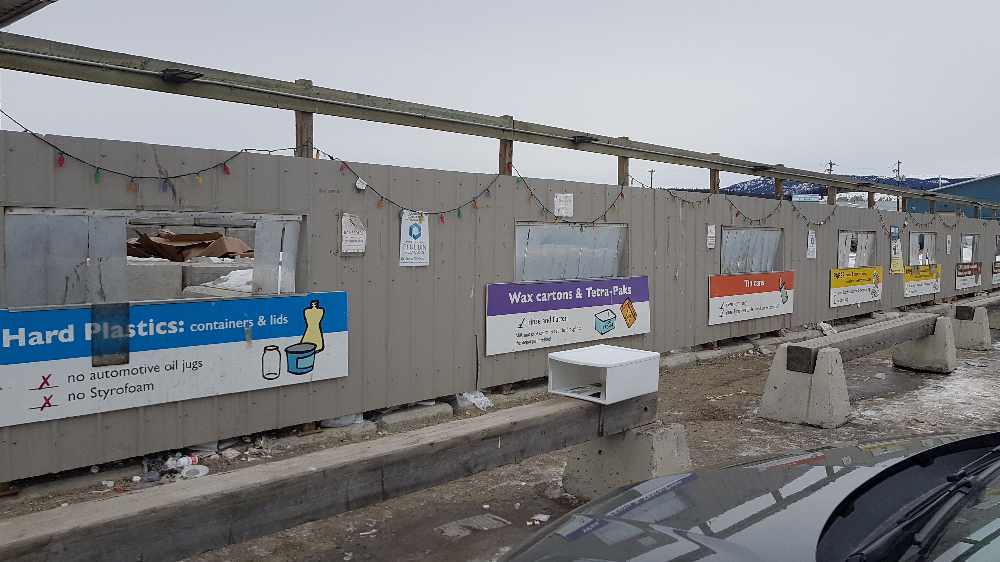 The 24-hour drop off at Raven Recycling in Whitehorse may be closed within a week. Photo: Tim Kucharuk/CKRW.
The bottle depot is now closed, with other services winding down; city offers free transit, and parking, while TH Chief issues message.
Raven Recycling in Whitehorse says they are closing their bottle refund depot immediately until further notice.
A post on social media says the decision was made to best protect the health of customers and staff.
Raven says the public drop-off and e-waste collection remain open, but will likely close within a week.
The post says please stay home if you can as recycling can wait.
If you are able, please hang onto your recyclables until we are able to safely open and provide you service again.

Our e-waste drop-off area will remain open (no need to speak to an attendant). Please pay attention for other updates as we move forward. Thanks for your support.

— Raven Recycling (@Ravenstation) March 23, 2020
City Waives Transit, Parking fees
The City of Whitehorse is temporarily waiving transit and metered parking fees until mid-April to reduce contact while paying.
The city made the announcement on Saturday.
A release says transit service levels remain the same, and passengers are encouraged to board through the rear doors to respect social distancing and can use the front door if they require the use of the ramp.
While you don't have to plug the parking metre downtown, parking restrictions still apply to no parking zones, accessible parking, yellow curbs and all other non-metered parking spots.
The city will review the moves on April 13th.
TH Chief Encourages Safety Measures
The Tr'ondëk Hwëch'in First Nation in Dawson City is encouraging all citizens to practice social distancing, frequent handwashing, and sneezing or coughing into their arm or tissue.
Chief Roberta Joseph says anyone displaying symptoms of any illness should take precautions and self-isolate.
Joseph adds together we can keep each other safe by following the measures put in place by Yukon's chief medical officer of health.
Joseph is calling on TH citizens after learning some people in the community are not taking the safety measures seriously.