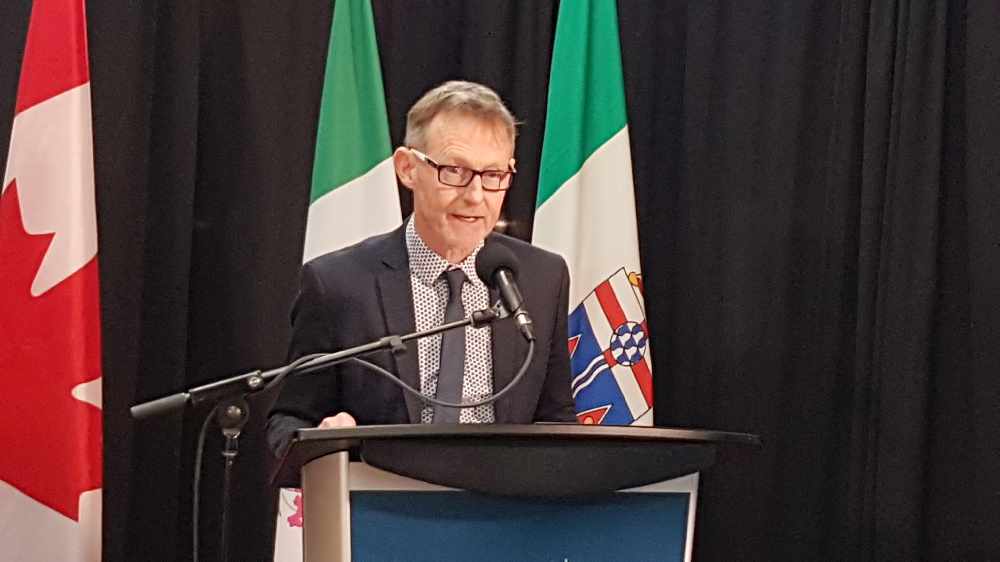 Yukon Chief Medical Officer of Health Dr. Brendan Hanley addresses media Friday morning. Photo: Tim Kucharuk/CKRW.
The Yukon Government announces preparations are ongoing for a respiratory assessment centre; testing, call centre capacity increased, social distancing stressed.
Yukon's Health Minister says as of Friday morning, there are no confirmed cases of COVID-19 in the territory.
Pauline Frost told a media briefing the government is setting up a respiratory assessment centre at the Yukon Convention Centre in Whitehorse.
Frost says the centre should be up and running in the next few days.
"For diverting individuals who have flu-like symptoms to the assessment centre, we are taking pressures off of the hospitals, physician clinics, and Yukon Communicable Disease Centre," Frost said.
She added the High Country Inn could also be used as a self-isolation centre if need be.
Frost continued the respiratory centre will not be accepting walk-ins and are encouraging Yukoners to use the telephone if they have concerns. That's why they are increasing the capacity of 811 with more Yukon-specific information.
As for the number of tests, that information can now be found on the Yukon government website which indicates as of Wednesday, 101 results have come back--all negative.
Daycares Open, Surgeries Limited, Testing Capacity Increased
Chief Medical Officer of Health Dr. Brendan Hanley says as of now, child care, and daycare centres do not need to close.
"We recognize that not all parents are able to look after their children at home at this time," Hanley said. "Truly child care services are a way to continue to offer essential services for parents, for society, in this situation. It allows care for children who continue to need care, and allows essential services to continue."
Hanley says as of Monday, all non-urgent surgery procedures will be suspended, however, urgent and emergency surgeries will continue.
He also says Yukon is receiving test results back more quickly, and if a test were done today, results would be known in 2-5 days. He adds it's best Yukon keeps the tight relationship with the B.C Centre for Disease Control.
"The best strategy for us is preserving the relationship we have with the B.C. CDC," Hanley said. "Because it's not just the test result. It's how that's communicated, how the information flow, the I.T. infrastructure, all of those things. It's basically a system-wide process."
Hanley says right now, Yukon is still good, but it's a time of intense preparation.
Practice Social Distancing
Hanley says while Yukon is not under lockdown, Yukoners should be using social-distancing measures this weekend.
Finally, as Dr. Hanley said in the presser, #Yukon is not under lockdown and society can still function. I asked him what Yukoners should be doing this weekend. pic.twitter.com/GBY33rqoe4

— Tim Kucharuk (@TimKucharuk) March 20, 2020
Frost says we will get through this.
"Together, we will once again be able to gather for spring carnivals, and bike relays and paddle the Yukon River Quest to Dawson City," Frost said. "By acting now, we will be able to get back to a time where we can hug friends on the streets, friends we see in our communities."
Frost also took time to thank Yukon's health care, and public service workers as well as Northern Vision Development for renting the respiratory centre space at cost.