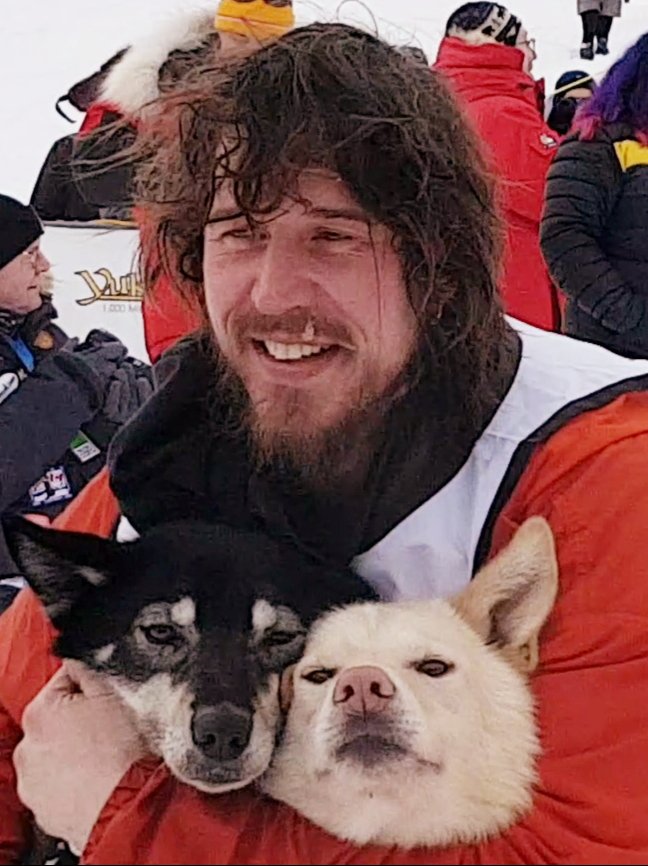 Brent Sass clutches his lead dogs after winning the 2020 Yukon Quest Tuesday afternoon. Photo: Tim Kucharuk/CKRW.
Alaska's Brent Sass captured the 37th running of the 1,600-kilometre dog sled race Tuesday afternoon in Whitehorse.
Eureka, Alaska musher Brent Sass is the 2020 Yukon Quest champion.
Sass pulled into Shipyards Park in Whitehorse with his 11 dogs just before 3 p.m. finishing what's billed as the toughest dog sled race in the world in 10 days, two hours, and nine minutes.
Sass was neck and neck with Yukon musher Michelle Phillips most of the race. The lead changed hands three times on Monday as both pushed for Braeburn.
Sass told those gathered at the finish line it was the last four days that set the tone for him to pull away.
"We had different schedules leaving Dawson," a visibly exhausted Sass said. "Mine was definitely a more conservative one; it was a risk to give her the edge."
"She only camped twice across that big stretch. (from Dawson to Pelly) We camped three times with five-hour breaks. It was that rest that we banked that gave us the edge."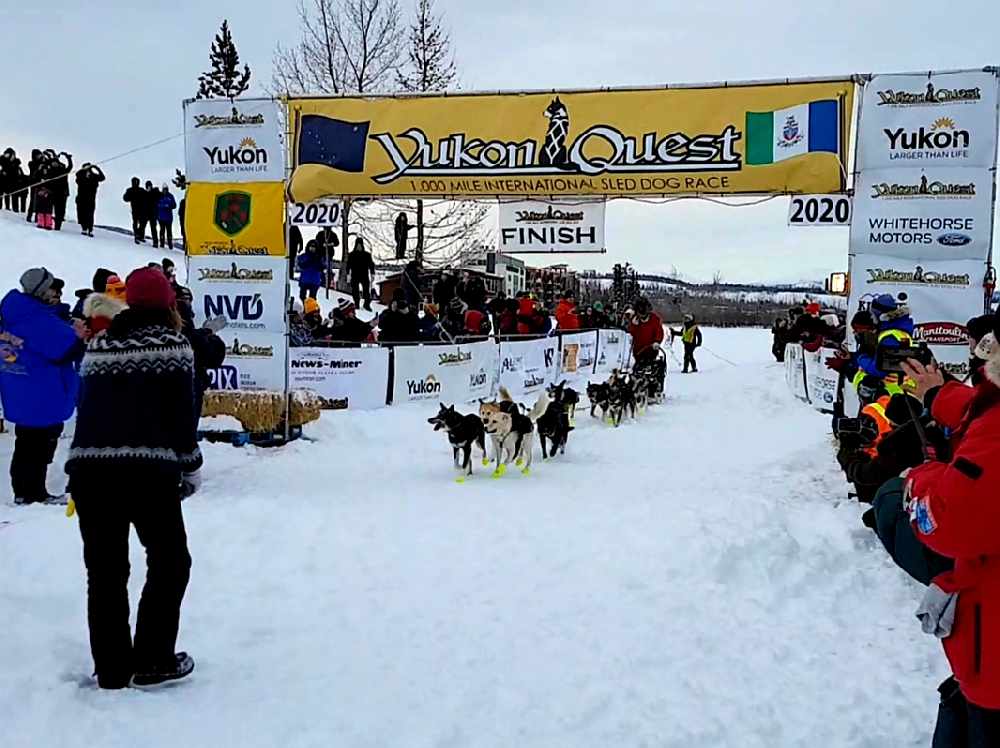 (The scene at Shipyards Park in Whitehorse as Sass crossed the finish line Tuesday afternoon. Photo: Tim Kucharuk/CKRW.)
Sass says it was a tough trail this year.
"I've run 13 Yukon Quests and I broke trail on this Quest 10 times more than any of the other races put together," Sass said. "It was a challenge. There (weren't) a lot of storms, but a lot of wind on the Yukon (River). There was hardly any trail.
The 40-year-old who is originally from Minnesota says all of his three titles are amazing. But there was another obstacle to overcome this year besides the wind-swept trail.
"Last year, that race was a joke," Sass said to a few giggles from the crowd. "It was like a magic carpet ride nothing really went wrong for me last year. We cruised down the trail; fast speeds never really had major obstacles."
"This year we were faced with some obstacles. I had some dog issues to overcome. We always pay close attention to our dogs, but I kind of had to make sure I paid some extra attention to the dogs."
"It panned out."
Besides getting the biggest share of the $100,000 purse, Sass also gets two ounces of Klondike Placer Gold for being the first to Dawson and to finish the race.
Phillips was set to pull into Whitehorse Tuesday evening in second place.
Brent Sass from Eureka, Alaska is your 37th @theyukonquest champion. #YQ2020 pic.twitter.com/psRbjYATmh

— Tim Kucharuk (@TimKucharuk) February 11, 2020