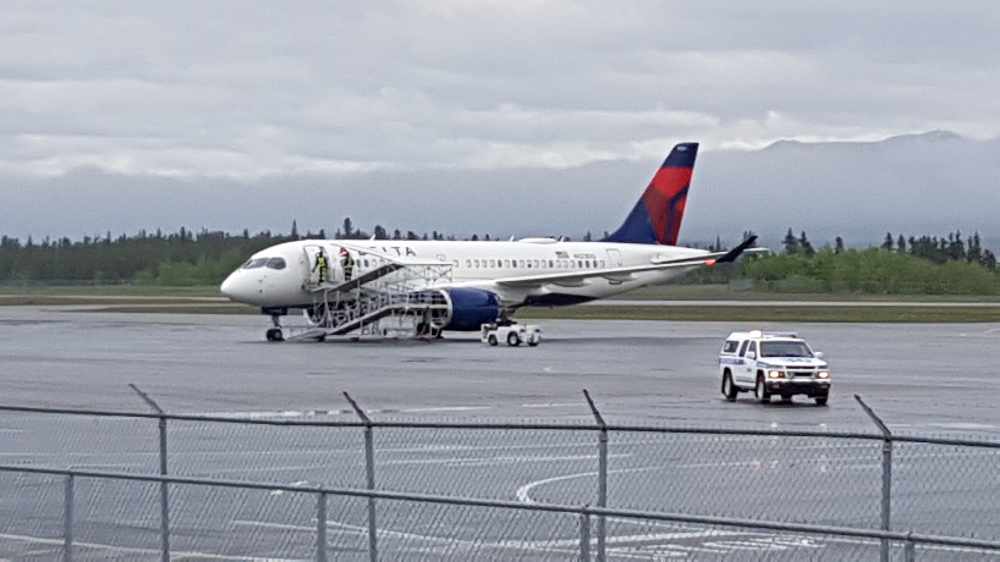 Delta Flight 1327 at the Whitehorse Airport Saturday morning. Photo: Tim Kucharuk/CKRW.
The Delta Airlines flight with 18 passengers on board landed without incident Saturday morning after experiencing a mechanical issue.
A Delta Airlines flight from Fairbanks to Seattle had to make an unscheduled stop in Whitehorse on the weekend.
Flight 1327 was diverted to the Erik Nielsen International Airport Saturday morning, as the Airbus A-220 with 18 passengers on board landed safety at 8:35 a.m.
According to the Flightaware flight tracking website, the flight was over the White Pass when it turned toward Whitehorse.
In an email to the RUSH, Delta says the flight crew observed a performance issue with the aircraft's auxiliary power unit, and procedures call for a diversion to a nearby airport out of an abundance of caution.
Highways and Public Works say on social media the passengers and crew were kept in isolation.
A replacement aircraft was sent from Seattle to Whitehorse to pick up the passengers, and they departed later in the evening.
Delta says the issue has been fixed and the plane is back in service.
Some people are getting off the plane. pic.twitter.com/xOIQ2YHb9y

— Tim Kucharuk (@TimKucharuk) May 30, 2020