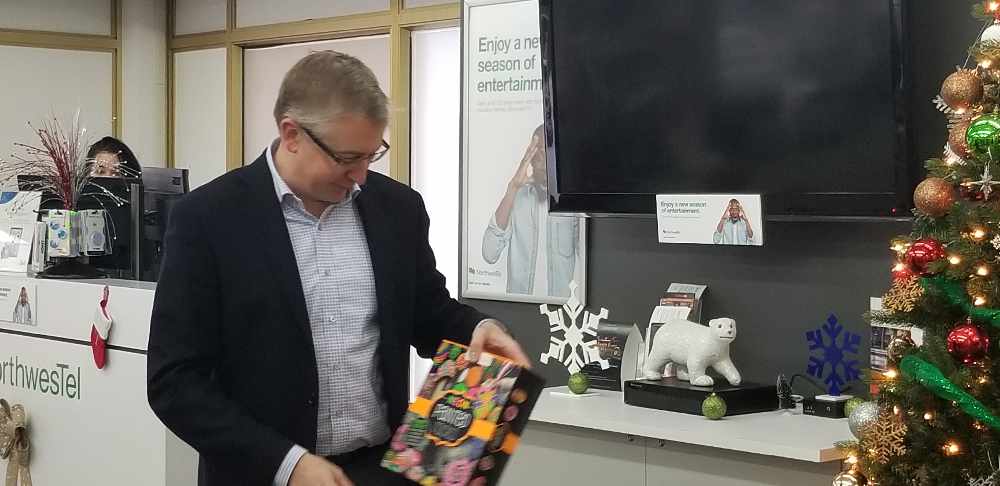 Northwestel President Curtis places a donated gift into the submission box at the Northwestel retail location in Whitehorse. By John Kennedy / CKRW
Northwestel's annual toy drive kicked off with a ceremony in Whitehorse.
The Whitehorse Firefighters Charitable Society's Share the Spirit campaign kicked off in Yukon.
The Northwestel toy drive began Wednesday morning, with Mayor Dan Curtis and Northwestel President Curtis Shaw donating the first gifts of the campaign, with donations being collected for Youth in Whitehorse, Dawson City, Haines Junction, Watson Lake, Carmacks and Carcross.
The society's Nicholas O'Carroll says the best part of Share The Spirit is hearing back from the families.
"We talk about the children and of course our program is directed towards the children, but a lot of these families are going through stuff themselves. These parents want to give their kids Christmas and we affect them as well, and we really appreciate that."
O'Carroll says there isn't a specific goal for this year, but he hopes to reach last year's donation amount of 291 hampers.
"Every year it changes. Every year it changes the requests we have, it changes the number of children we have, so we put all the presents to use. We'll find a good home for anything that gets dropped off."