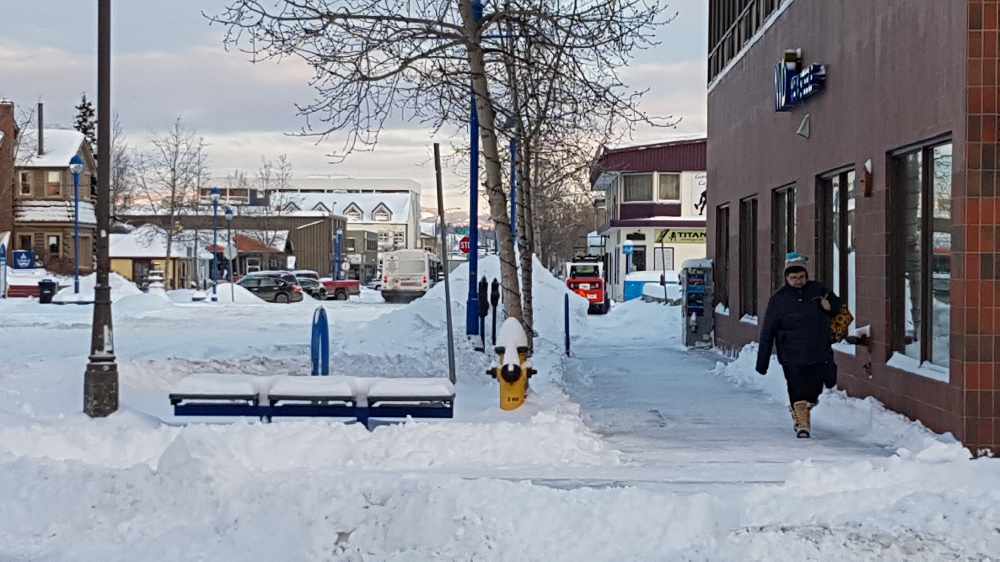 Snow piles up on Third Avenue in downtown Whitehorse Tuesday morning. Photo: Tim Kucharuk/CKRW.
Officials with the City of Whitehorse and Yukon Highways and Public Works encourage you to be cautious as crews begin the process of clearing all the snow.
While winter storm and snowfall warnings have been lifted by Environment Canada the big dig-out is on in southern Yukon.
The Whitehorse area received between 20 and 30 centimetres of snow between 5 a.m. Monday and 5 a.m. Tuesday, which is making for some tricky driving conditions.
City Infrastructure and Operations Director Peter O'Blenes says city crews were out overnight Monday clearing priority roads such as Second and Fourth Avenues, Hamilton Boulevard, Lewes Boulevard, and Mountainview Drive.
"People just need to slow down and take their time," O'Blenes said. "If it takes you an extra 10 minutes to get to work, take the extra 10 minutes and go a little earlier to make sure that you can arrive safely. (There are) lots of crews out, (and) there's lots of activity. The roads are slippery, and will be for the next few days."
He said outside of priority roads, it will take a few extra days to clear as the snow keeps piling up.
Oshea Jephson with Yukon Highways and Public Works says heavy equipment will be clearing highways as well, and drivers should give them extra space.
He says you should also take the time to properly clean your vehicle of snow.
Avalanche Danger Rises
The Yukon Avalanche Association says increased snowfall and winds have raised the avalanche danger rating to considerable in the White Pass area.
The association's Ben Horowitz says there is a strong likely-hood of avalanches occurring in the next few days, with the danger rating expect to increase even further.
"We've had a ton of new snow falling in the White Pass, and it's again being accompanied by very strong winds," Horowitz said. "Winds really drive avalanche slab formations, and that's something that we're really concerned about in these stormy periods."
Horowitz says travel plans should be thought out fully, with Yukoners checking the forecast before heading out. He says you should also ensure you have an emergency kit available in your vehicle.
Southern #Yukon begins to dig out from the 20 to 30 cm's of snow which fell between 5 am Monday and 5 am Tuesday. Here's some of the buildup in downtown #Whitehorse. pic.twitter.com/R2Q4pnkyxG

— Tim Kucharuk (@TimKucharuk) February 11, 2020