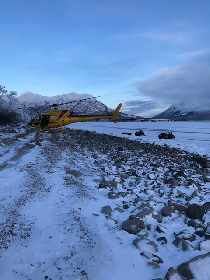 A Trans North helicopter prepares to leave the northwestern shore of Bennett Lake with two rescued snowmobilers and a member from Whitehorse RCMP on board. RCMP snowmobiles. PHOTO BY Carcross RCMP
Two men have been rescued from Bennett Lake after their snowmobiles fell through the ice.
Carcross RCMP was advised by Yukon RCMP dispatch that two men had fallen through the ice while snowmobiling on the north shore of Bennett Lake just after 2:00 p.m. on Thursday, January 10, 2019.
Two Carcross officer s responded to the call, and within 20 minutes they spotted the two men from a distance.
Officers located the men 30 feet from the shore, with one man having made his way out onto the ice, and the other standing on his sunken snowmobile.
The two men were rescued with a ladder, and a fire was started while waiting for the rescue helicopter to arrive from Whitehorse.
RCMP says the two men were mildly hypothermic but conscious and alert and were given sleeping bags to warm up.
The helicopter transported the two men to Whitehorse General Hospital to be assessed and treated by medical staff
"This incident is an example of the reality of policing in the North. We may not tell these stories often, but our employees risk their lives to save others in situations like this on a regular basis. I am very proud of the response from the Carcross members, and thankful for the strong assistance from the Search and Rescue Coordinator and Whitehorse Detachment, including our dispatchers. They played an important role in ensuring everyone involved in this incident remained safe," says Inspector Lindsay Ellis, District Operations Officer.
The Yukon RCMP says this opportunity can be used to remind the public that despite the icy cold temperatures being experienced over the past few weeks, not all waterways in the Yukon are stable and completely frozen
RCMP are advising people to exercise extreme caution when heading out onto lakebeds and icy trails.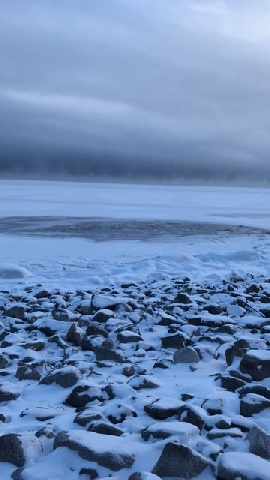 PHOTO: As seen from the shoreline: an open hole on icy Bennett Lake near Carcross, where two men fell the ice while snowmobiling. Photo by Carcross RCMP