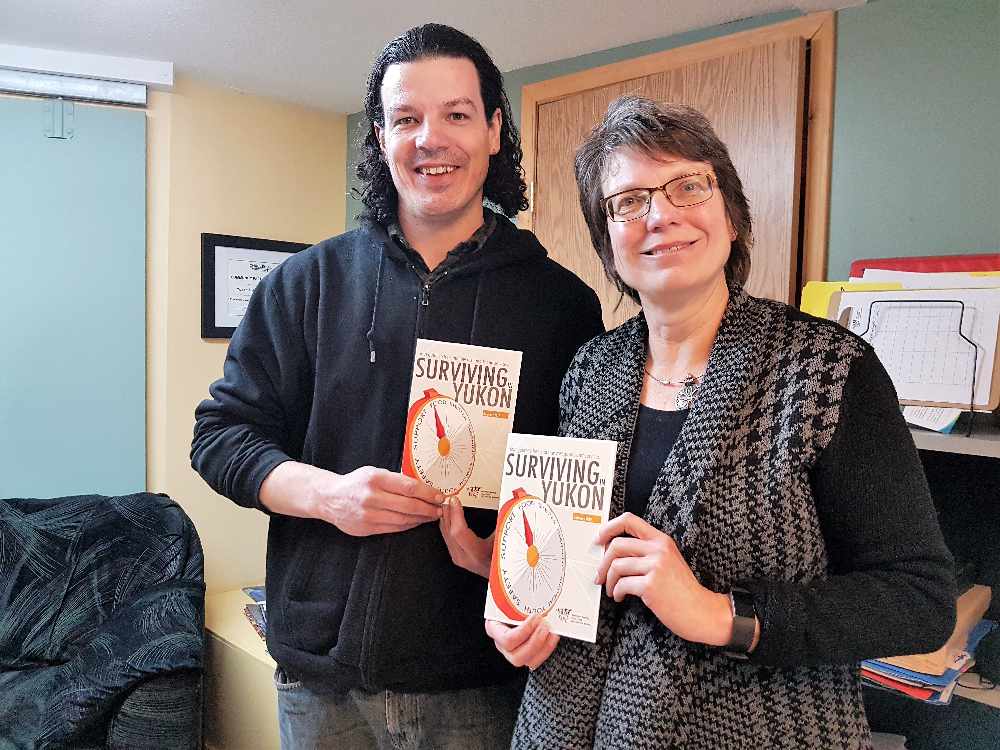 Jesse Whelen with Blood Ties Four Directions Centre (left) and Kristina Craig with the Yukon Anti-Poverty Coalition with the guidebook Friday afternoon. Photo: Tim Kucharuk/CKRW.
The Yukon Anti-Poverty Coalition's annual release of updated information on services hit the street Friday afternoon.
The Yukon Anti-Poverty Coalition is releasing this year's edition of Surviving in Yukon.
Executive Director Kristina Craig says the guide to services in the territory has grown from a sheet of paper to a 30 page booklet over the past 13 years.
"Services that range from advocacy and information to children and family support, clothing, food, shelters, Internet safety apps." Craig said.
"All sorts of things that we think are good programs and projects that are going on in the community."
Jesse Whelen with Blood Ties Four Directions Centre in Whitehorse says the guide is a go-to when new clients come into their facility.
"We kind of start there and it's a great resource just to orient people to the types of services that are available. Sometimes they're not even sure what they're looking for yet when they walk through the door." Whelen said.
"We grab the book and go through it and point out different places they can find services in town. Usually after that they have a much better grasp of what's going on in town."
New this year is a free app run by an Alberta developer called HelpSeeker which provides up-to-date information on the guide online.
Craig says as of the launch Friday afternoon, 1,700 copies are being distributed around the territory to city facilities, the library, shelters, and First Nations.