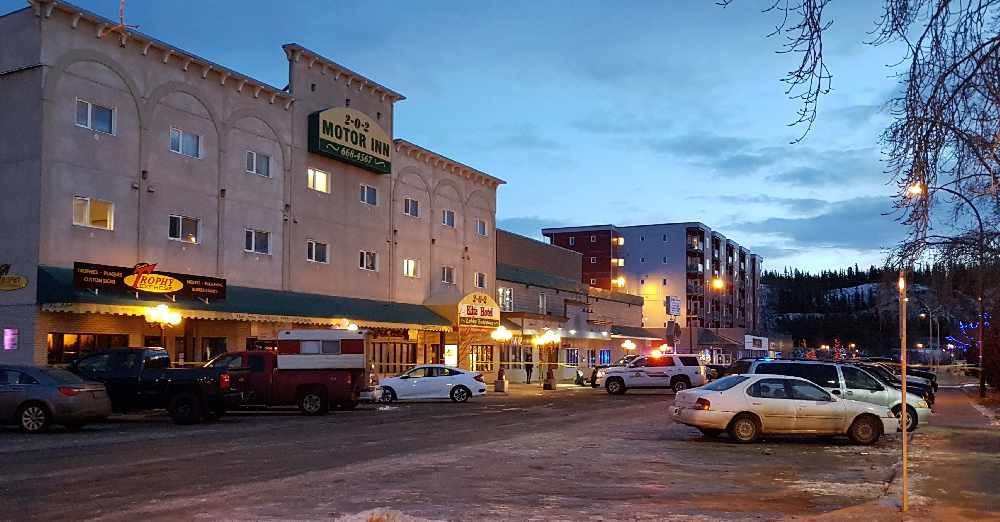 The scene outside the 202 Motor Inn Sunday morning. Photo: Tim Kucharuk/CKRW.
The two men in custody after Sunday's shooting on Jarvis Street made a first court appearance Monday night.
The two suspects who are in custody in connection with a shooting in Whitehorse on the weekend are now facing numerous charges.
Court documents viewed by the RUSH indicate 35-year-old Malakai Kwoney Tuel and 26-year-old Joseph Wuor face four charges each after a man was allegedly shot outside the 202 Motor Inn early Sunday morning.
Tuel is facing charges of attempted murder in connection with the Jarvis Street shooting and assault with a weapon on another man in Whitehorse.
Wuor is charged with possession of a handgun for a dangerous purpose, and transport of a firearm in a careless manner.
Both also face possession of a firearm when prohibited from doing so in breach of orders out of Alberta, as well as breach of recognizance.
Court documents list Carcross-area addresses for the men. The documents say Tuel's offenses allegedly took place in Whitehorse and Wuor's near Carcross.
Both have a next court appearance scheduled for Thursday.
Meantime, there is no update on the condition of the shooting victim. Police indicated at the time the victim sustained serious life-threatening injuries. Further updates from a family member on Monday indicated he was fighting for his life in a Vancouver hospital.
RCMP say the Major Crimes Unit is involved in the investigation.