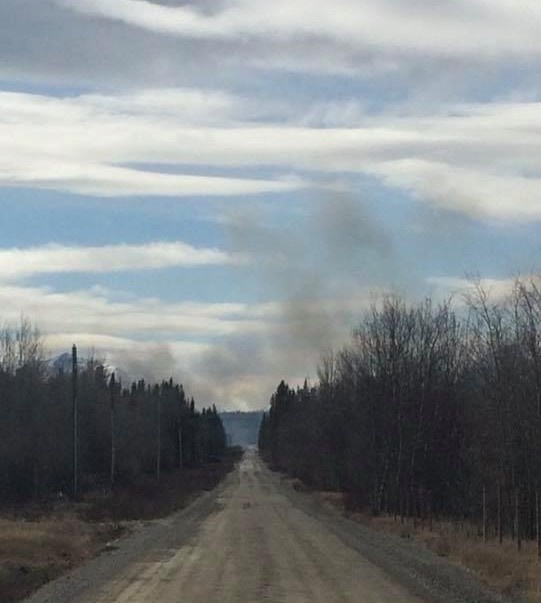 Smoke rises from the fire at the end of Tagish Estates Road Tuesday afternoon. Photo: Carcross/Tagish First Nation/Facebook.
Updated: The blaze led to two outbuildings lost and a five-hectare forest fire on Tagish Estates Road Tuesday afternoon.
Yukon Wildland Fire Management says the Tagish Estates Road fire is under control, and crews are back in the area on Wednesday making sure the fire is out.
Fire Information Officer Mike Fancie says the five-hectare fire spread from a structure fire to the forest Tuesday afternoon.
"The forest fuels surrounding the structure, there was some grass, for example, ignited and that's what caused Wildland Fire crews to engage with the incident." Fancie said.
Daphnie Vernier with the Carcross/Tagish First Nation says the two structures that were lost were not homes, but outbuildings.
She says the fire did come close to a home, but firefighters were able to keep the flames at bay.
A social media post from the First Nation mid-day Wednesday declares the fire as out.
There is no word on a cause.
(This is an update. The previous version is below.)
____________________________________________
A fire in Tagish caused two propane tanks to explode, destroyed two homes and spread into the nearby forest.
The Carcross/Tagish First Nation says on social media a total of two propane tanks exploded on a property on the Tagish Estates Road Tuesday afternoon and burned the surrounding wooded area.
Wildland Fire Management says the fire grew to five hectares in size. Officials say it is now under control and no other structures are threatened.
Wildland Fire says work will continue Wednesday to make sure the flames are extinguished.
The First Nation says two homes were lost, and there are no reported injuries.
The fire danger rating for the Tagish area is low, but it was reportedly quite windy when the blaze broke out.
Besides Wildland Fire and the First Nation, volunteer firefighters responded, and ATCO Electric crews disconnected the power.
(Updated to reflect a structure fire caused the propane tanks to explode.)