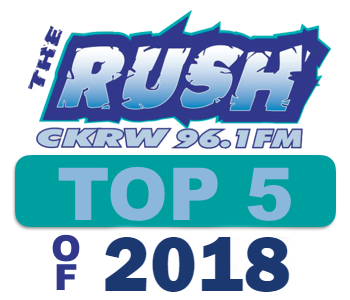 A municipal election, bears, pot, carbon, and a Magic Cool Bus grabbed the attention of Yukon this year.
The Yukon Municipal Election is the RUSH Newscentre's top story of 2018.
Whitehorse mayor Dan Curtis won a third term beating out four others.
20 people vied for six councillor seats in a spirited campaign, with three new faces on council when all was said and done.
There were also new mayors in Faro, Watson Lake, and Teslin.
Record bear encounters came in at number two, as there was a double fatal attack northeast of Mayo in late November.
The legalization of cannabis, carbon pricing, and the Magic Cool Bus round out the top five.
There were also two honourable mentions.
TOP FIVE NEWS STORIES OF 2018
Honourable Mention: Peel Plan Moves To Conclusion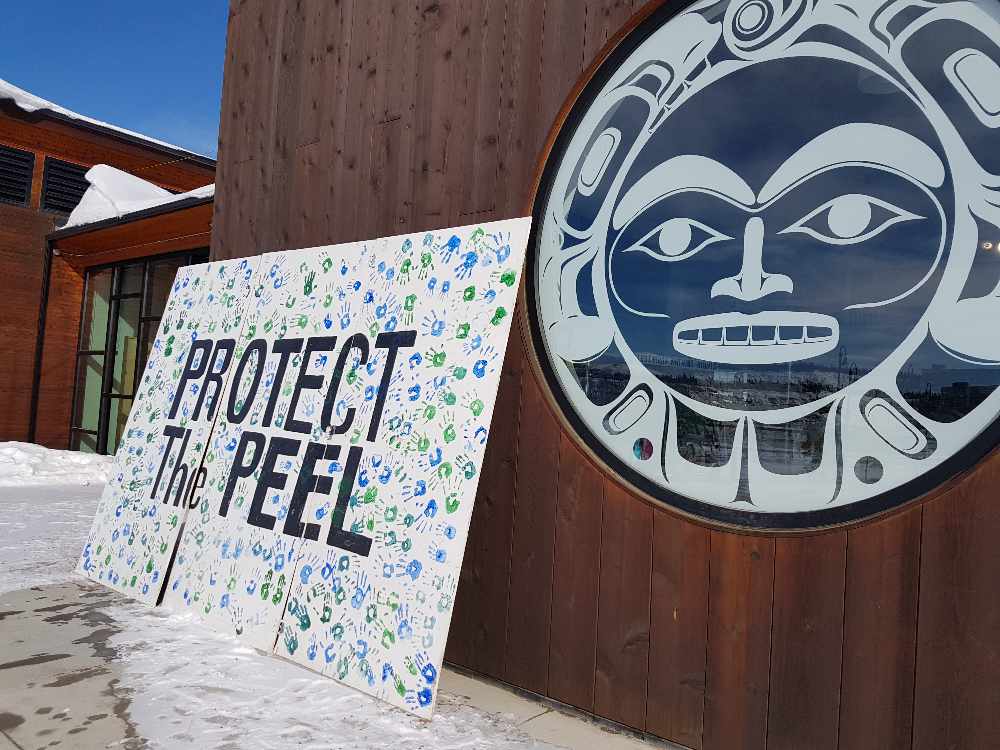 Considering the Peel Watershed Land Use Plan and resulting court case dominated this Top Five for years, it was relatively quiet on the Peel front in 2018. First Nations and environmental groups held a celebration in February after the previous December's court victory. The Yukon government conducted a last round of consultation on the Land Use Planning Commission's Final Recommended Plan of 80 per cent protection this fall, and the process is expected to wrap up in January. The question now is: what happens to other land use planning processes as set out under the Umbrella Final Agreement.
Honourable Mention 2: Yukon Grows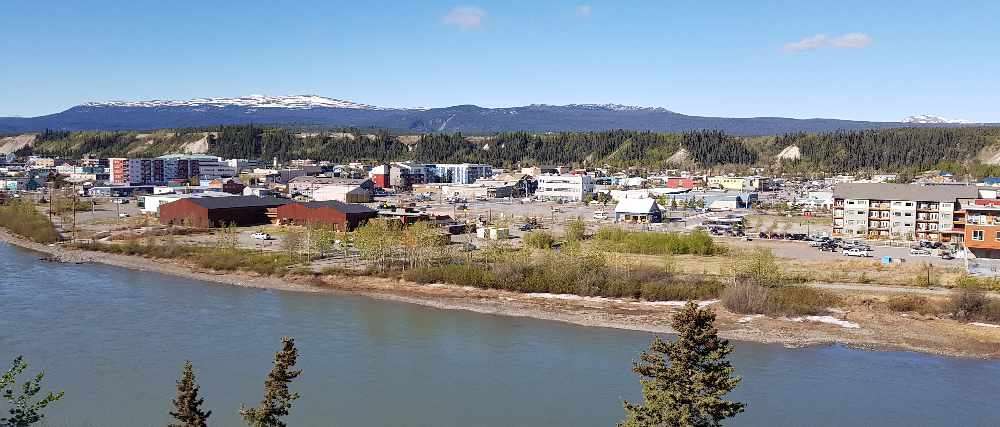 2018 saw a year of boom time indicators. The unemployment rate was the lowest in the country. The average house price in Whitehorse was $475,000. Median rent in the capital was $1,000, and the vacancy rate was 2.2 per cent. The affordable housing question grew larger. The Consumer Price Index was up by 1.5 per cent from 2017, and the population was 40,483 as of the end of June.

Mining activity hummed along as construction commenced at Victoria Gold's Eagle Gold mine, however the enthusiasm was curbed with the scale down of operations at the Minto Mine. A glimpse into the future was realized in June as the federal government announced their formal commitment to build a redundant fibre optic line via the Dempster Highway connecting to the south via the Mackenzie Valley. The biggest construction project in Yukon history-the $146 million Whistle Bend Continuing Care facility in Whitehorse-welcomed the first residents late in October. The Conference Board of Canada issued a report in November saying Yukon will experience 4.6 per cent growth this year, and 6.2 per cent in 2019. The challenge in 2019 will be how to manage this growth.
5. 'Magic Cool Bus' not cool with authorities in Whitehorse
This story came out of nowhere in early November. Daniel Mackenzie with the Free the Beat Foundation appeared at the November 5th meeting of Whitehorse city council, proposing to set up a Safe Ride Home program using an old school bus which he termed the 'Magic Cool Bus'. He also told council he wanted to work with the city not only on setting up the bus service to begin in the new year, but to open a safe injection site. Council was initially warm to the ideas, and suggested to Mackenzie he follow up with administration.
Mackenzie did get an inspection and commercial plate from the Yukon government, and started offering rides to 'friends' ahead of his proposed start date of January 1st. This did not sit well with the city, who issued a statement on November 29th saying Mackenzie had not made the proper application under the Vehicle for Hire Bylaw. The city said they were neither endorsing nor were they affiliated with Mackenzie. The December 3rd council meeting saw Mackenzie give a short but colourful presentation to council, which resulted in Mayor Dan Curtis asking him to leave chambers.
Daniel MacKenzie of the Free the Beat Foundation appeared in front of #Whitehorse city council speaking about human rights and his 'Magic Cool Bus' Safe Ride Home' program. He was ruled out of orded by Mayor Dan Curtis and has now left chambers. pic.twitter.com/bVzPJILqF0

— Tim Kucharuk (@TimKucharuk) December 4, 2018
The frequency of rides through December decreased, and Mackenzie posted on social media on December 27th he had to raise $5,000 by January 1st to fully purchase the bus or 'it was all over'. He said he was also in the process of getting a business license, and an RCMP check to comply with the Vehicle for Hire bylaw which would take two weeks. A GoFundMe page set up to save the bus was well short of its goal as of this publishing.
4. The Carbon Battle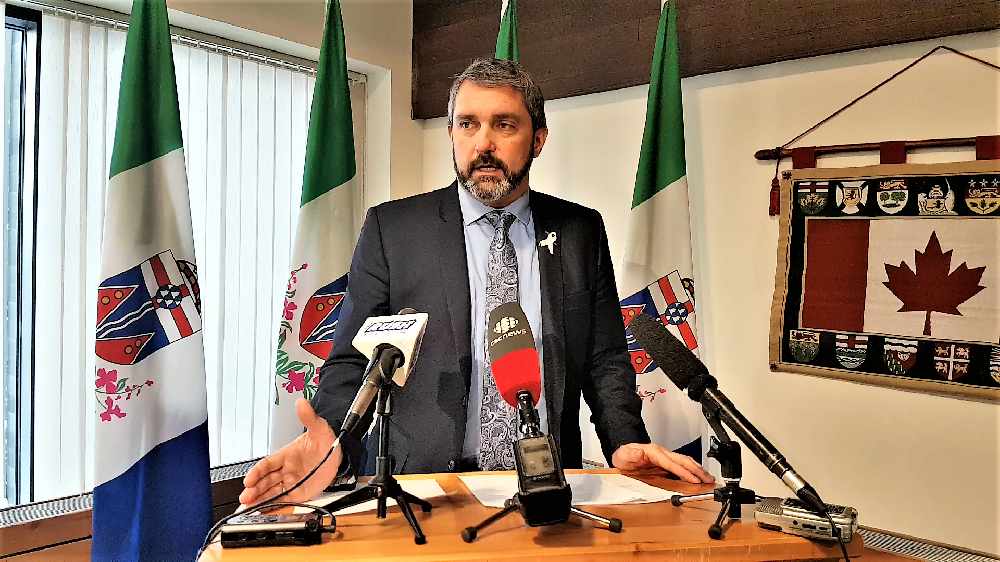 Premier Sandy Silver
Yukoners went into 2018 getting ready for a carbon pricing mechanism to take effect on January 1st, 2019. Yukon had signed on to the federal government's backstop, which set pricing at $20 a tonne. An analysis document released in early April said the territory would save 32 kilotons of emissions per year by 2022, and the tax would cost the average household $260 per year.
The opposition Yukon Party spent both the spring and fall sittings of the Legislative Assembly hammering the Liberal government on details, with lots of colourful back and forth going on across the floor. Premier Sandy Silver repeatedly stated Yukoners would get 100 per cent of the costs back through a rebate. In June, the government announced airline fuel would be exempt, and placer miners would also get a rebate. In late October, Silver announced carbon pricing would not take effect until July 2019, and almost all of the details had been worked out except for rebates. As we head into the new year, those rebate details have yet to be released.
3. Cannabis Goes Mainstream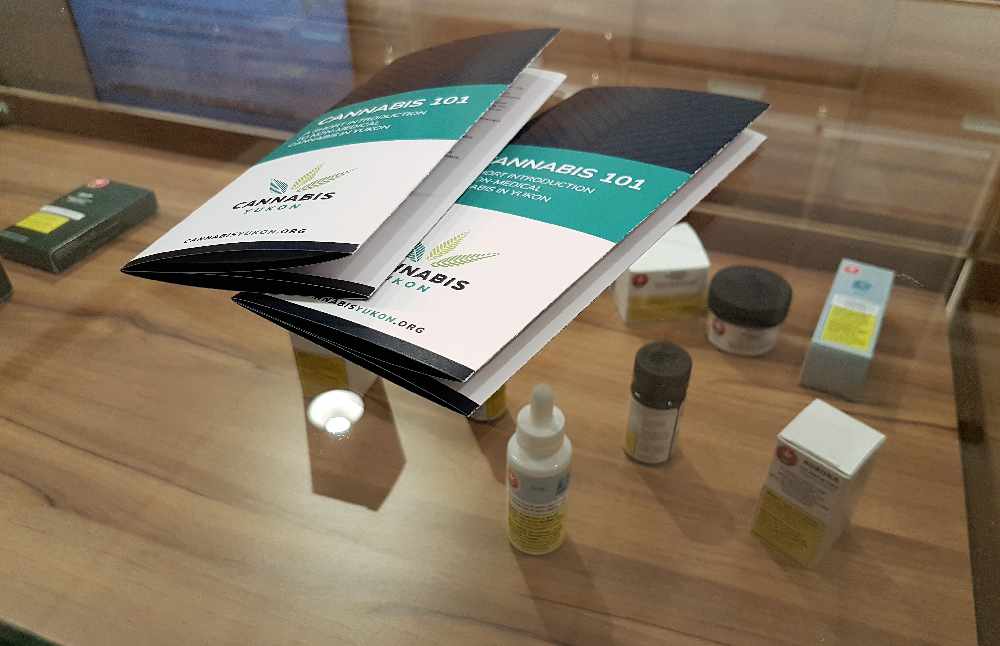 The Yukon government scrambled to get ready for legal pot on October 17th, with lots of behind and not so behind the scenes work. It was determined early in the new year through a draft legislative summary Yukoners 19 and up would be allowed to purchase, consume, and sell marijuana in the territory. Also, those using cannabis would be restricted to doing so in a residence or where it is permitted by regulations, and the Liquor Corporation would be the sole distributor of marijuana in Yukon. The Cannabis Control and Regulation Act was passed during the spring sitting.
A tender for an initial warehouse/retail space run by the government came in way over budget, with the government deciding to warehouse their bud alongside booze, and rent a small space on Industrial Road for the retail outlet. Potential private operators were left wondering what was going on, with the government ultimately deciding to open their retail store, and e-commerce outlet first. On legalization day October 17th, the first Yukoner to buy pot lined up about 40 minutes before opening, and the store saw 1,000 people go through on the first day, with 700 visiting the website, with a total of $59,000 purchased. The government says it is now getting ready for private cannabis outlets to open in the spring.
Cannabis #Yukon is officially open. First 12 people are inside the reception area. #Whitehorse #Yukon #CannabisLegalization pic.twitter.com/PwxPHcU0Pt

— Tim Kucharuk (@TimKucharuk) October 17, 2018
2. Record Bear Encounters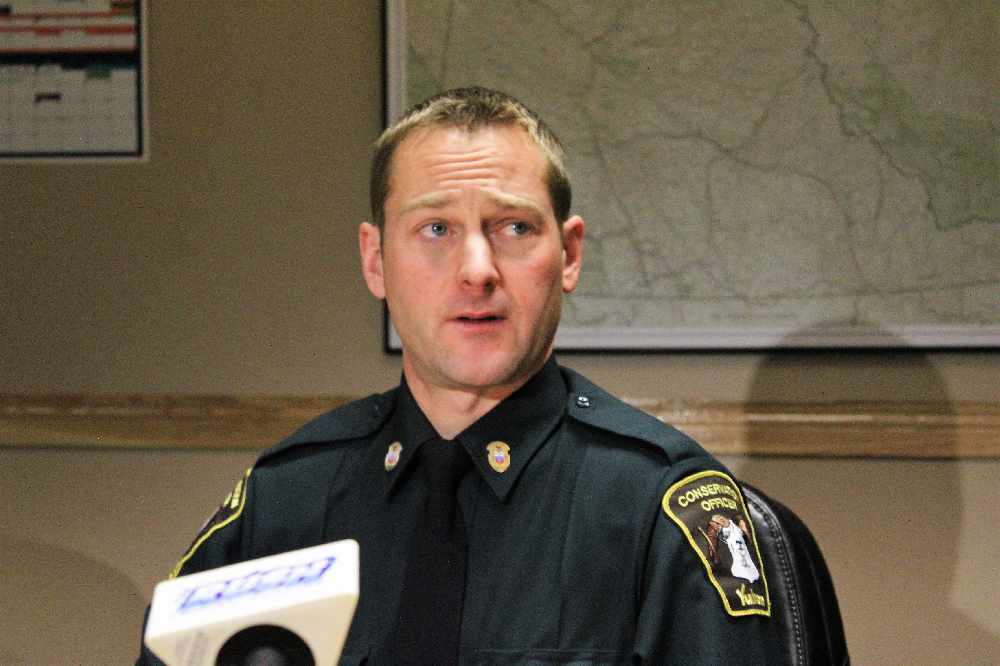 Environment Yukon Conservation Officer Aaron Koss-Young
It seems like everywhere you looked in the local mainstream and social media this summer, there was talk of bear sightings and encounters. This media outlet contacted Environment Yukon a few times to do a story, and get the 'bear aware' message out, but there simply was not a Conservation Officer available to interview as they were busy in the field.
The end of season statistics released from Environment Yukon found incident reports were up 25 per cent to 267 in 2018; a record number. There were 54 bears which had to be put down, and 58 were relocated.
Sadly, the bear season was marred by an unthinkable tragedy northeast of Mayo. On November 26th, 37-year-old Valérie Théorêt and her 10-month-old daughter Adele were killed in a bear attack outside their Einarson Lake area cabin near the Northwest Territories border. Gjermund Roesholt was returning to the family cabin in the afternoon after checking their trapline, when he was charged by a grizzly. Roesholt shot the bear dead, but later discovered the bodies of his wife and child. The deaths saddened Yukoners, especially those at Whitehorse Elementary where Théorêt taught. The story also garnered worldwide attention. RCMP, Environment Yukon, and the Yukon Coroner's Service all investigated. The coroner has yet to release her report.
1. 2018 Yukon Municipal Election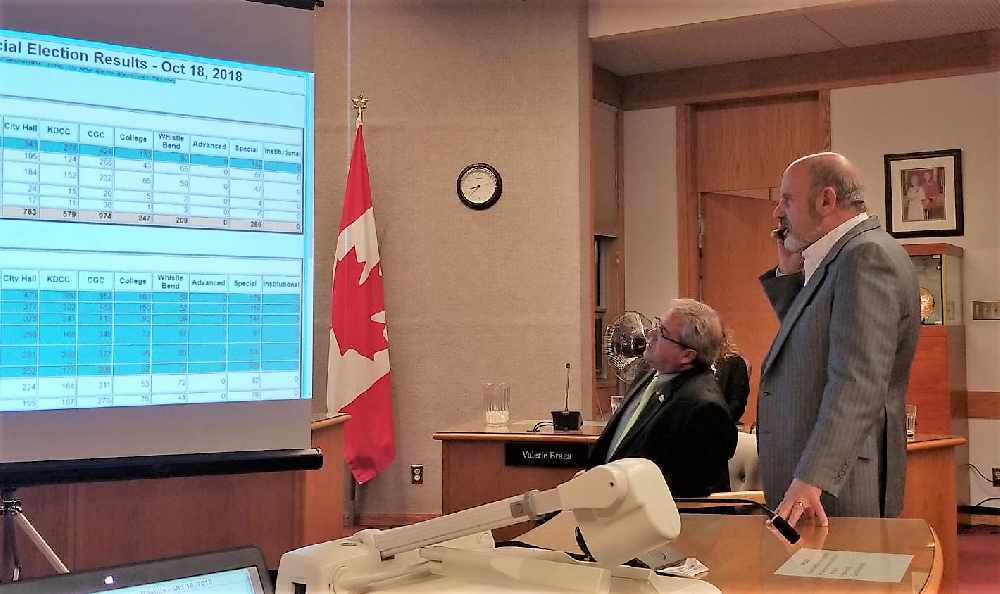 Dan Curtis (seated) and Rick Karp watch the results in Whitehorse city council chambers on election night October 18th.
Yukoners went to the polls in 2018 to elect a mayor and council in their respective communities on October 18th. In Whitehorse, 20 people sought six council seats, while there were five challengers for mayor. The lead up to voting day saw the city littered with campaign signs, debates in every neighbourhood, and lively conversation on social media.
Dan Curtis was elected to a third term as mayor, finishing ahead of Rick Karp and three others. Three of the six incumbent councillors were re-elected. The new council was sworn in on October 29th.
Video: #Whitehorse city council members take part in swearing-in ceremony and inaugural meeting Monday night. pic.twitter.com/ReEOioTMyg

— Tim Kucharuk (@TimKucharuk) October 30, 2018
The communities saw some acclamations in Dawson City, and Mayo, with Haines Junction residents only voting for council. Faro tested the theory of 'every vote counts' as Leonard Faber and incumbent Jack Bowers tied in the mayor's race with 86 votes. Faber won the seat via a draw from a hat. There were new mayors elected in Watson Lake and Teslin. Speaking of elections, Yukoners will be in for another in 2019 as a federal election is set for October 21st. Liberal and Conservative candidates have already been set.
There were many other stories which made headlines in 2018, but these were the ones which captured our attention the most.
On behalf of senior reporter Tim Kucharuk, and reporter John Kennedy, we wish you a Happy New Year! We will continue to bring you the stories that matter to you in 2019!
Compiled and written by senior reporter Tim Kucharuk.
Photos and video: Tim Kucharuk/John Kennedy/CKRW file.