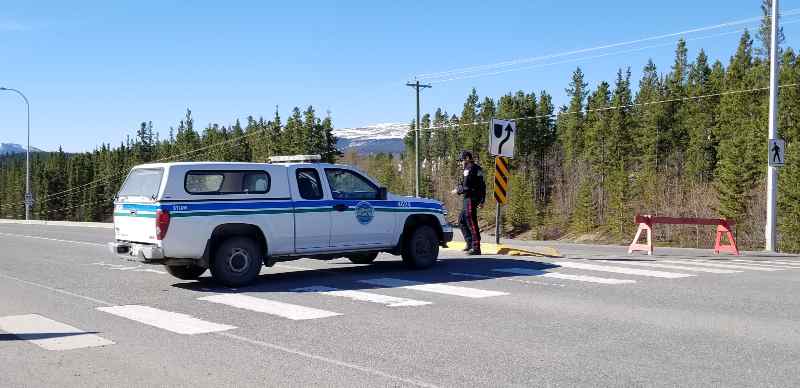 City of Whitehorse bylaw officers block Hamilton Boulevard after Monday mornings crash. Photo: John Kennedy/CKRW.
Police say impaired driving causing death charges are pending in connection with early Monday's incident on Hamilton Boulevard.
Two people are dead, and impaired driving causing death charges are pending after a single-vehicle crash in Whitehorse.
Police say about 6:30 a.m. Monday, a vehicle travelling on Hamilton Boulevard near Falcon Drive was involved in an accident.
RCMP say a man and woman both aged 18 were found dead on the scene, while one man was assessed on the scene, and another male passenger was taken to hospital with non-life threatening injuries.
The 20-year-old driver was first taken to hospital for treatment but then released into police custody, where he is expected to face charges of impaired driving causing death.
Police say no names are being released at this time.
The road was closed in the area until mid-afternoon as collision analysts completed their on-scene work.
RCMP say more information will be released when possible.
(This is an updated story. The previous version is below, and all original social media story posts have been deleted.)
_________________________
Whitehorse RCMP are investigating a serious accident Monday morning.
Police say traffic in both directions of Hamilton Boulevard is blocked between Big Way Foods and the traffic circle by Lobird and will be for the next few hours as of 8 a.m.
Drivers are asked to use an alternate route out of Copper Ridge.
There's no word about the vehicles involved, or on injuries.