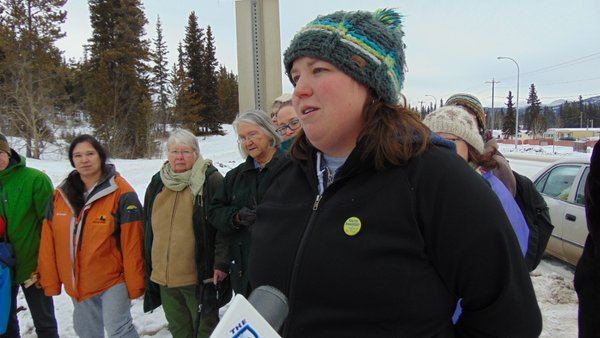 Kate White announcing her intention to run for re-election in February 2016. Photo: Tyson Fedor/CKRW file.
The Takhini-Kopper King MLA was acclaimed as leader after no other nominations were received by last Friday's deadline.
Kate White will be the new leader of the Yukon NDP.
The two-term Takhini-Kopper King MLA will be acclaimed as leader during the party's convention on May 4th.
The deadline for applications was Friday, and no other nominations were received.
Chief of Staff Jan Stick says there will be a formal motion made during the meeting to declare White as leader.
A statement from the party says White's priorities will include preparing for the next election, with an emphasis on making the Yukon a more affordable, inclusive and sustainable place for all Yukoners.
Liz Hanson announced last November she would step aside as leader after her successor was chosen.
Hanson was picked to take over the party's leadership in 2009 from Todd Hardy, and won a by-election in 2010 after Hardy's death.