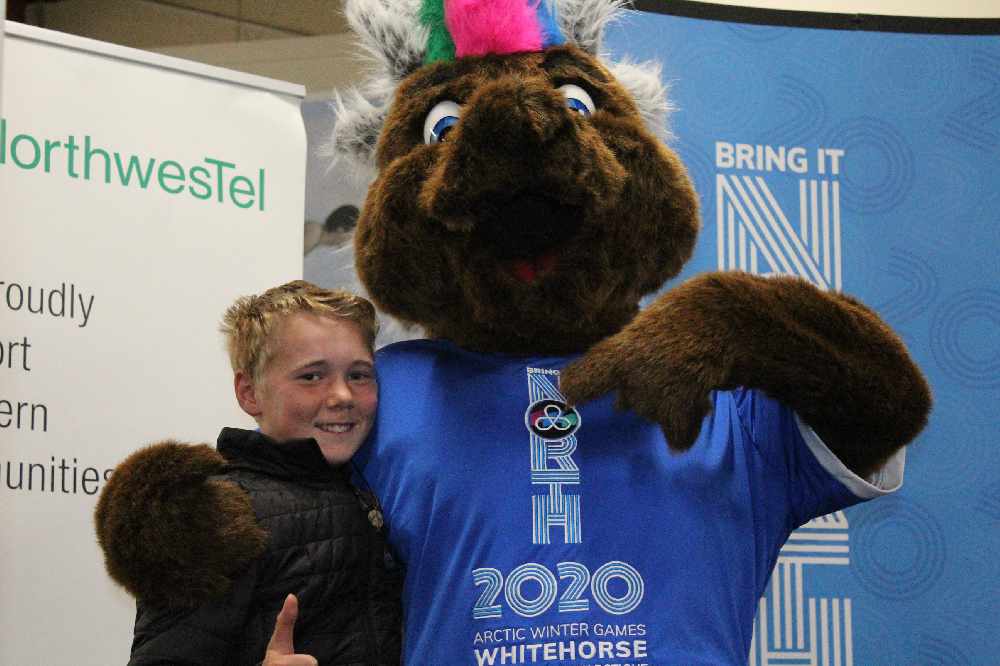 Owen McDonald (Left) and Däch'äw (Right)
It's official, Däch'äw has arrived in Whitehorse.
The official Mascot for the Whitehorse 2020 Arctic Winter Games is finally in the building.
Däch'äw the porcupine was welcomed to Whitehorse during an early morning ceremony on Thursday, with 12-year-old mascot designer Owen McDonald seeing his creation for the first time in the fur.
Northwestel Vice President of Consumer Markets Tammy April made jokes about Dach'aw's late arrival and says he shouldn't have put his quills in his carry on bag.
"We're very pleased to be supporting cuddly Däch'äw, and (I give) my congratulations as well to Owen McDonald; I've seen your original drawing and I think Däch'äw turned out great when he came to life. We'll all be watching for Däch'äw around Whitehorse as we get closer to the games next March."
A Yukon-Wide mascot design contest saw over 40 drawing entries, with McDonald's design being chosen over the rest.
McDonald says he never expected to see one of his drawing come to life, and would make some changes to the design if he could.
"I think I could of, should of, made his boots smaller, now that I realize. I feel like he will be tripping around in those."
Däch'äw is the Southern Tutchone word for porcupine.
The porcupine is "formidable on one side, like Yukon athletes, and warm and cuddly on the other, like Yukon hosts," according to McDonald.