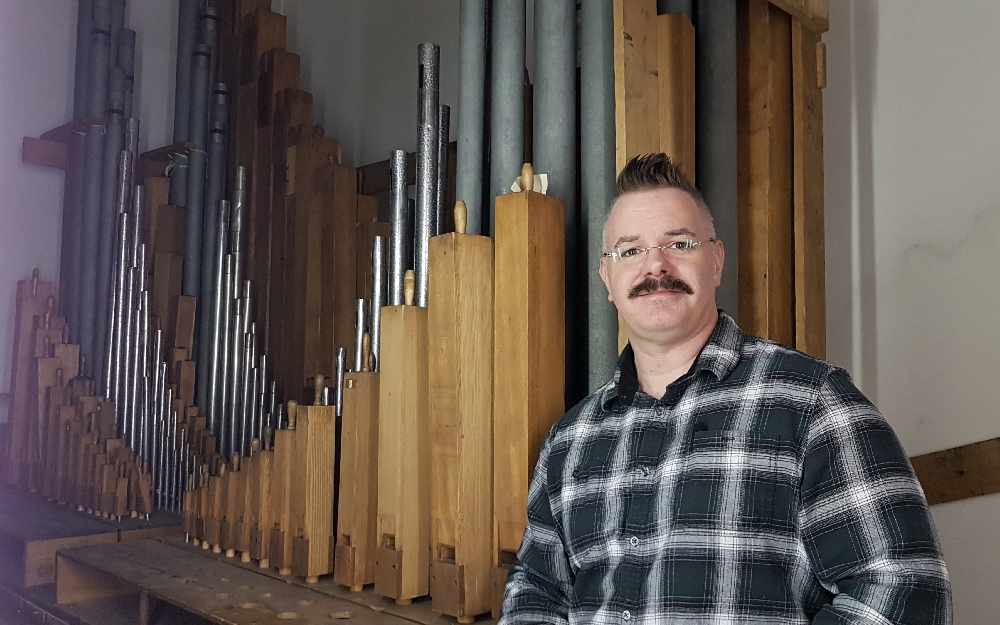 Organ Restoration Specialist Jason Barnsley. Photo: Tim Kucharuk/CKRW.
The Trinity Lutheran Church has brought in a specialist from Calgary in the hopes of getting the massive instrument operational again.
An over 90-year-old pipe organ that has been producing musical tones at the Trinity Lutheran Church in Whitehorse since the early 1980s is getting a makeover.
The 1926 Kilgen Pipe Organ was damaged by a fire in 2017. Now Jason Barnsley, a specialist in organ restoration from Calgary, is going to get the organ whistling notes again.
"We are currently dismantling it so that we can take it apart and take it back to Calgary," Barnsley said. "So that we can refurbish it, and restore it, and make it almost like new again. In about a years' time we will return with it, reassemble it, and turn it on (so) it can make beautiful music."
Barnsley describes a bit of the restoration process.
"In the 1920s, they were building wood products using hide glue made from horse collagen which is a strong glue, but it doesn't hold up when you have temperature and humidity swings," Barnsley said. "Nowadays we use modern PVC glues and they hold up much better. So anything that has cracked we will re-glue with modern stuff."
Barnsley and his crew of 3 are painstakingly packing up the organ, which contains 762 pipes, three keyboards, and a full range of pedals. Each piece is labelled. He says packing it up and putting it back together is like doing a jigsaw puzzle.
The church originally got the organ from St. James Lutheran in Altoona, Pennsylvania in 1980 for $1. Volunteers travelled thousands of kilometres to pick up and bring the organ to Yukon. It emitted its first sounds at Trinity Lutheran in March of 1981.
This was a nice story to do. The Trinity Lutheran Church in #Whitehorse is fixing their pipe organ. I can't wait to hear the finished product! #Yukon pic.twitter.com/GZ9mRcAVH3

— Tim Kucharuk (@TimKucharuk) January 22, 2020