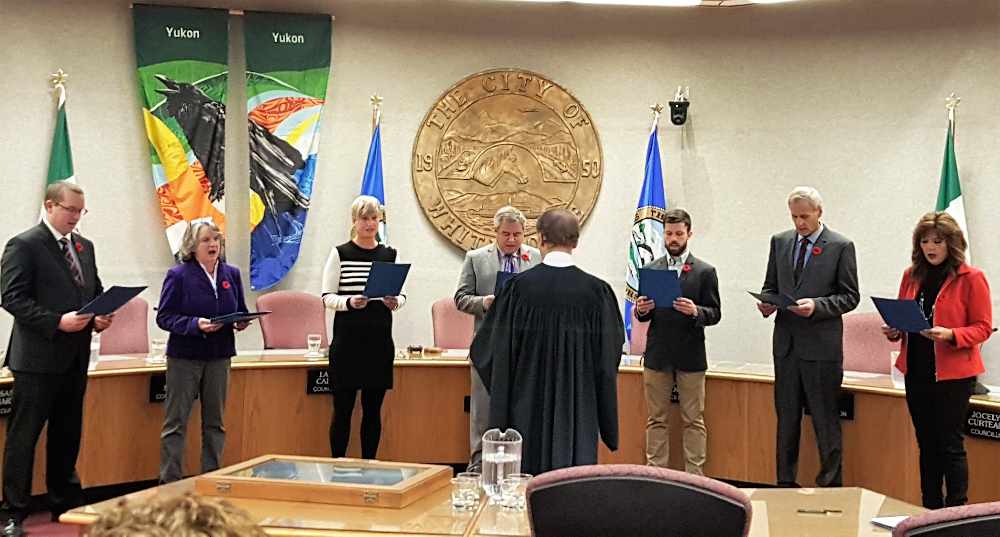 The current edition of Whitehorse city council during their swearing in last October. Photo: Tim Kucharuk/CKRW file.
Council and administration say they will focus on three particular items during this term of council.
Whitehorse City Council is laying out its strategic priorities for the next three years.
During Monday night's meeting, Council announced they would be prioritizing the Official Community Plan, emergency preparedness, and attainable housing during its term.
City Manager Linda Rapp says the topics will help council and staff keep their focus.
"We do have limited capacity. We would love to be able to do it all right away, but we need to be able to lay out a timing where we feel that we could help achieve what council is looking for." Rapp told council.
Councillor Laura Cabott says the development of priorities is the result of a tremendous amount of work from everyone at City Hall.
"I'm pleased to see that we're doing this and we're being able to communicate the priorities within the first six months of our term," Cabott said. "I do acknowledge there was a lot of the work done with council and staff, not just senior administration, but many of our staff members were involved in this."
Council will vote on the strategy at next week's meeting.