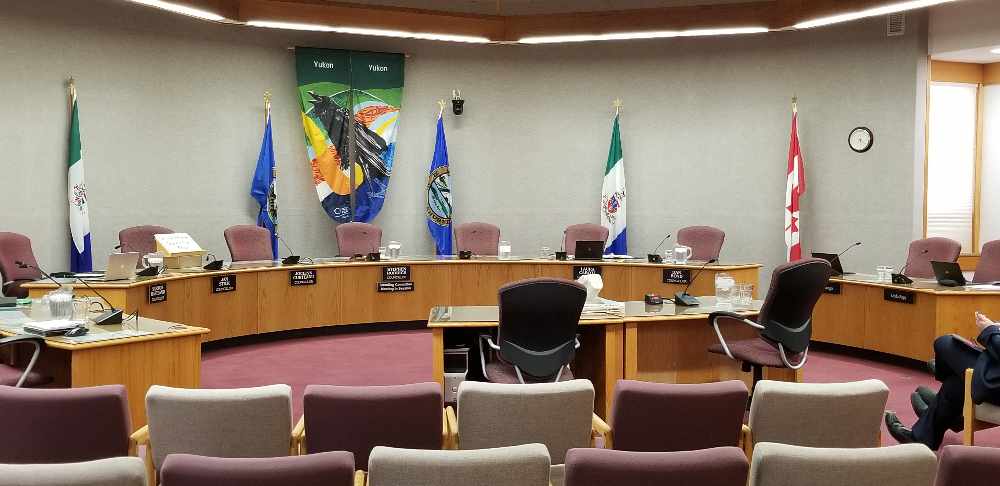 Members of council debated the new procurement policy for nearly two hours. Photo by John Kennedy / CKRW
A new procurement policy being brought before Whitehorse city council has prompted concerns from the Whitehorse Chamber of Commerce and left councillors with lots of questions.
A new procurement policy for the City of Whitehorse is being sent back for reassessment after council was left with more questions than answers.
During Monday night's meeting, city council discussed a new procurement policy aimed at modernizing the city's purchasing and sales policy.
Some aspects of the policy prompted concerns from the Whitehorse Chamber of Commerce, with Chairman Mike Pemberton speaking to council about the issues the Chamber takes with the new policy.
Pemberton says removing council from the procurement decisions over $100,000 wouldn't benefit the city.
"City council would be provided with a report of the procurement but would have no authority to bring public sensitivity or concerns to the debate and decision on said contract"
Pemberton added the Chamber feels city administration is misguided in thinking the policy will support local business.
"Administration's definition of local business and I quote; 'means a business that has a valid city or inter-municipal business licence' is not useful in clarifying where incentives will assist our business community."
After much discussion with the Whitehorse Chamber of Commerce and City Administration, Councillor Laura Cabot put forward a motion to send the policy for refinement.
"This matter is not ready to come forward to council next Monday, we will have further discussions with the administration and see what the next steps will be with this."
The new policy would align with changes to national procurement laws, as well as include global trends toward sustainability, environmental factors, social factors.

Council will come back to the issue at a later time after refinement.