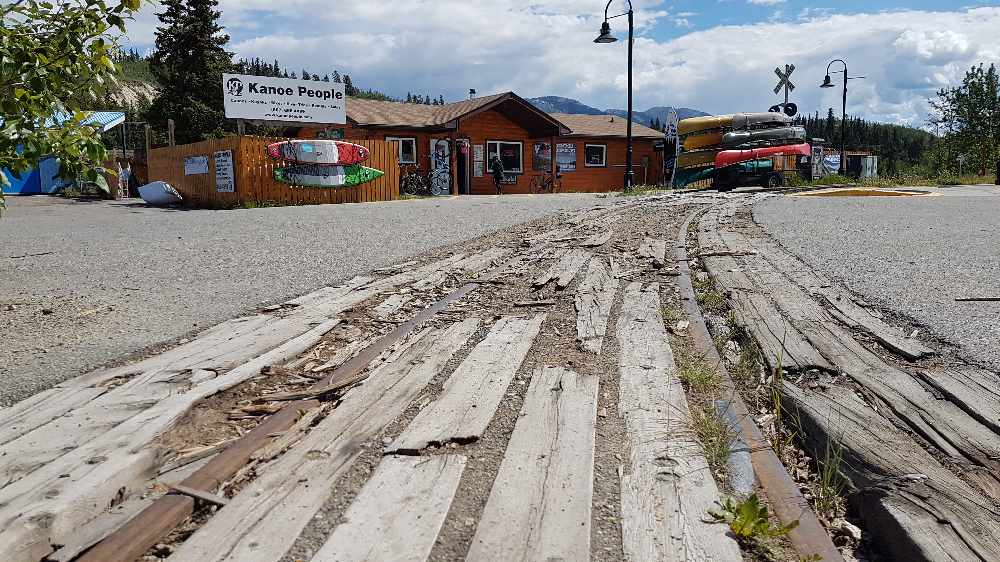 PHOTO: The tracks near Kanoe People, shown visibly rotting and splintering away. By Tim Kucharuk / CKRW
Whitehorse City Councillor Laura Cabott says there's a safety issue with the now-abandoned Waterfront Trolley tracks crossing the Waterfront Trail.

Yukon Highways and Public Works have indicated they will look to address deteriorating Waterfront Trolley track crossings along the Waterfront Trail in Whitehorse.
City Manager Linda Rapp told this week's council meeting, the Mayor sent a letter to Minister Richard Mostyn last month, and a follow up resulted in word on Monday from the deputy minister the issue would be addressed.
"They've been indicating that they would definitely be sending a crew out to flag those areas of concern and that those would be dealt with."
Councillor Laura Cabott says there are safety concerns with the crossings, with rotting wood and spikes sticking up.
Cabott says the crossings near Earls, and Kanoe People are especially bad.
"there are some places along the tracks which are heavily used by cyclists and walkers and runners where they're in bad shape."
She says a quick fix might be to pave over the crossings.