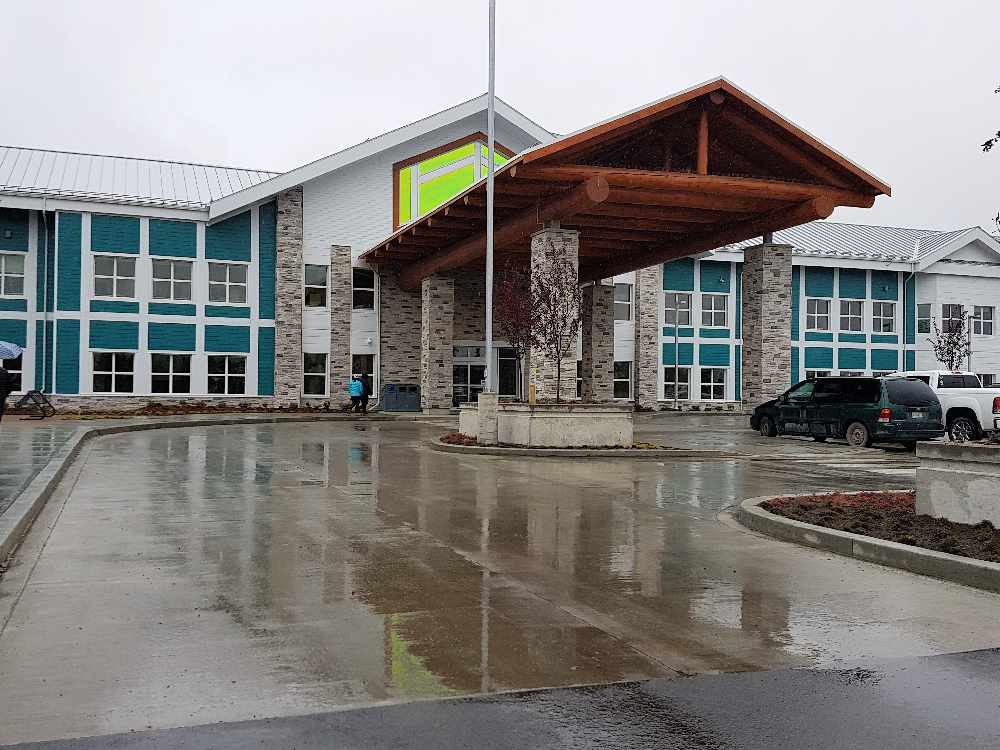 Whistle Bend Place is Yukon's newest continuing care facility costing $146.6 million and two years to build. Photo: Tim Kucharuk/CKRW.
Yukoners got a sneak peek at the 150 bed facility Wednesday afternoon before residents start moving in next month.
The 150 bed Whistle Bend Place Continuing Care facility in Whitehorse is officially open.
Speeches and tours greeted hundreds of people in the new $146.6 million dollar facility Wednesday afternoon.
Premier Sandy Silver told those gathered for the opening ceremony, Whistle Bend Place will take pressure off the continuing care system.
"The long-term care beds that will soon be ready here (will) help alleviate bed pressures at three of our hospitals, and it will allow us to close Macaulay Lodge, an older facility which no longer meets today's standards." Silver told those gathered in the multi-purpose room.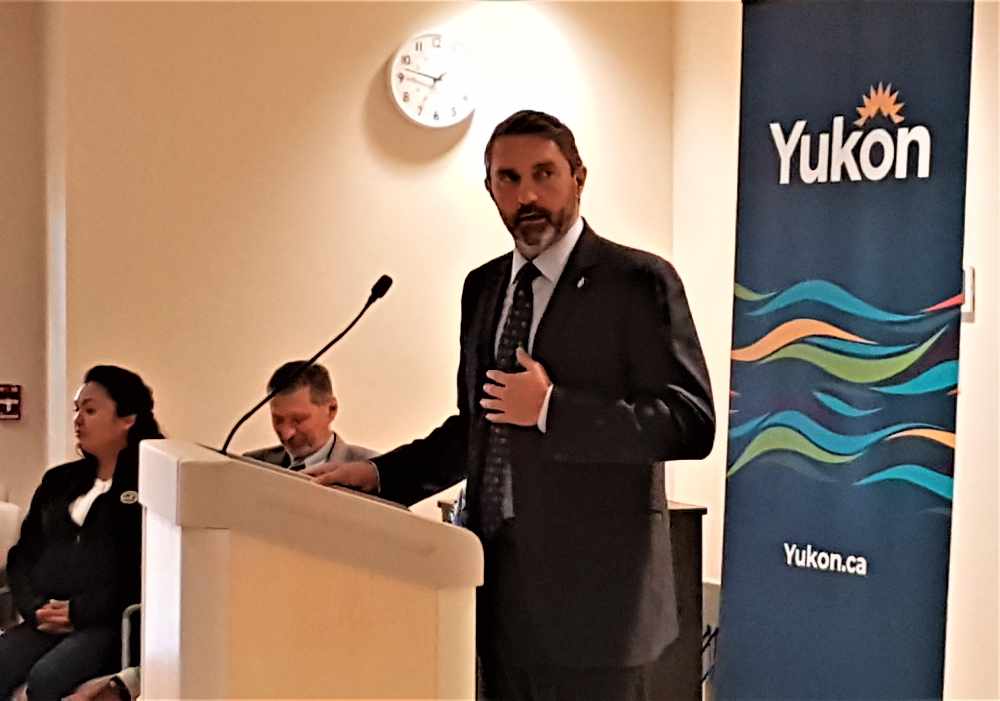 "It will ensure that more Yukoners have the long-term care that they need."
Continuing Care Assistant Deputy Minister Karen Chan says there is some work to be done before residents begin moving into the facility near the end of October.
"There's things like linking up with the pharmacy that has to be done, there's admission things that have to be done, and we don't want to be rushing people through that." Chan told reporters after a media tour of the building.
"We want to take time and the staff want to get to know them, and our staff need to get to know the building."
(Inset photos: Silver addresses the opening ceremony. Chan takes questions from reporters. Photos: Tim Kucharuk/CKRW)
She says the move-in will be done in stages.
"First of all they'll be coming out of the community. People who have some needs in the community, and from the hospital as well. That will be our first group."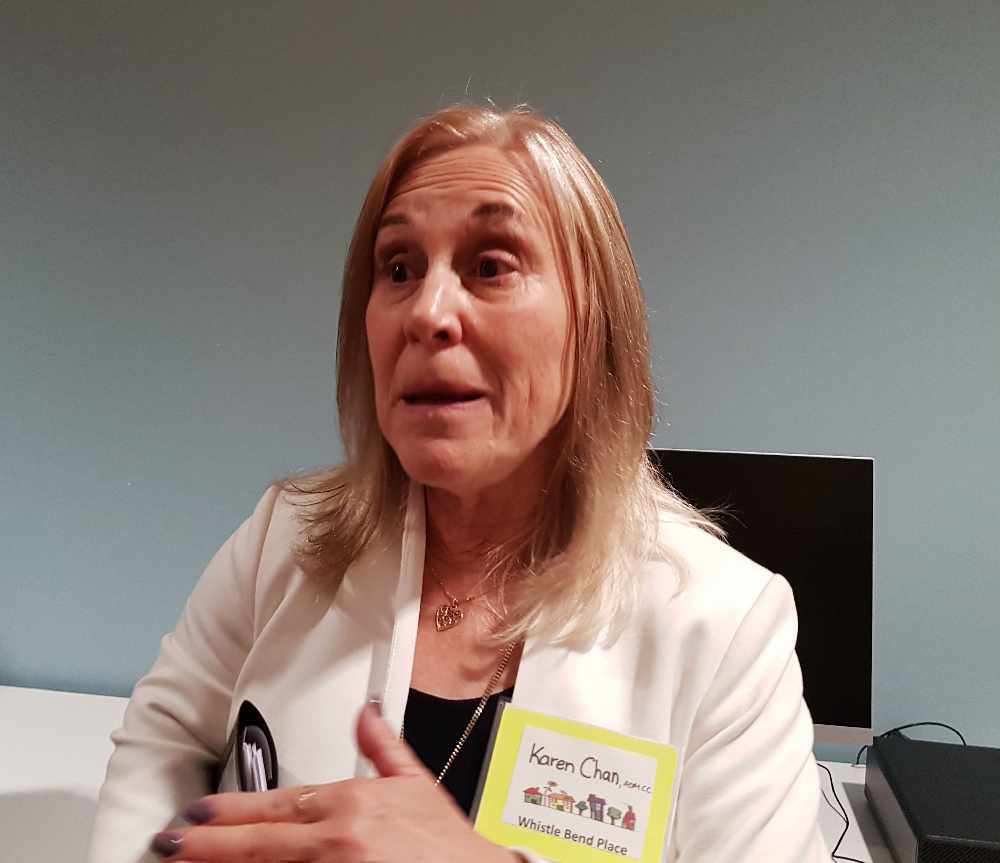 "Then they'll be a group from Macaulay Lodge, as we decommission Macaulay Lodge. (The move in) will take well into next year."
Chan says 250 staff will be needed to run the facility, with 180 already hired and living in the territory.
She confirmed there had been an internal call for employee housing earlier this year, adding some staff are being put up in hotels as they settle into the community and determine which part of Whitehorse they want to live in.
The facility contains long-term, hospice, and mental health beds, including spacious rooms with their own showers, and shared living facilities.
Chan confirms the hospice beds are on schedule to open next year, and the mental health beds in 2020.
1,200 people worked on the project, including local carpenter Kris Beal, who spent 22 months pouring concrete footings. walls and beams.
"The weather was always a little bit of a challenge to keep everything warm and moving along properly." Beal told reporters.
"I think it was a pretty quick time-frame to get a building of this size built. We were all going at it pretty hard for a couple of years."
The facility is billed as a community within a community, and includes a hair salon, and woodworking studio, an arts and crafts room, a pottery kiln, indoor and outdoor gardening spaces, and a large gym.
Now on a tour of Whistle Bend Place. #Whitehorse pic.twitter.com/wh7qpty0QQ

— Tim Kucharuk (@TimKucharuk) September 12, 2018