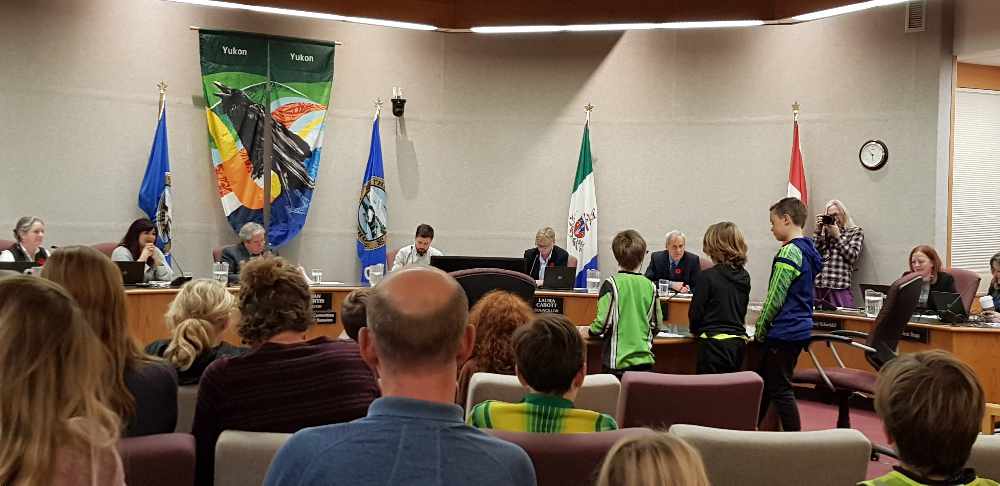 Youth cyclists address city council Monday night. Photo: Tim Kucharuk/CKRW.
Several cyclists addressed city council Monday night urging the city to act on the Bicycle Network Plan passed in 2018.
Whitehorse City Council is being encouraged to implement the city's Bicycle Network Plan.
At Monday night's meeting, about 10 cyclists of all ages told city council about the dangers they face on city roads.
"I think that if we bike we will all lower our greenhouse gas emissions," one youth said. "I bike to school because it helps focus, and it burns energy," said another. "I almost got hit three times, and I would like to see bike paths connected. The cars are not stopping for us bikers," and "I think making bike routes safer, is by making routes safer for kids."
Sarah Johnson telling council about how she was hit by a vehicle while stopped at Second and Fourth Avenue and dragged to the middle of the road.
Jocelyn Land-Murphy runs what's called a bike bus in which she guides neighbourhood kids from Takhini to downtown every day.
Suggestions were made to connect paths around town, especially from Two Mile Hill to the Riverfront Trail, and overall they told council the plan was a good one.
"Having access to safe, active transportation options for people of all ages and abilities is an issue I'm very passionate about," Land-Murphy told council. "When we design bicycle infrastructure that is safe for children, the whole population benefits. Including adults, people with mobility devices and seniors with e-bikes."
Council was told by administration the plan is a guiding document, and it's up to council to prioritize projects, however safety is a high-concern with the projects brought forward.
Development Services Mgr Mike Gau says plans are in the works to improve cycling routes and safety issues. Says bicycle plan was just passed last year.

— Tim Kucharuk (@TimKucharuk) November 5, 2019