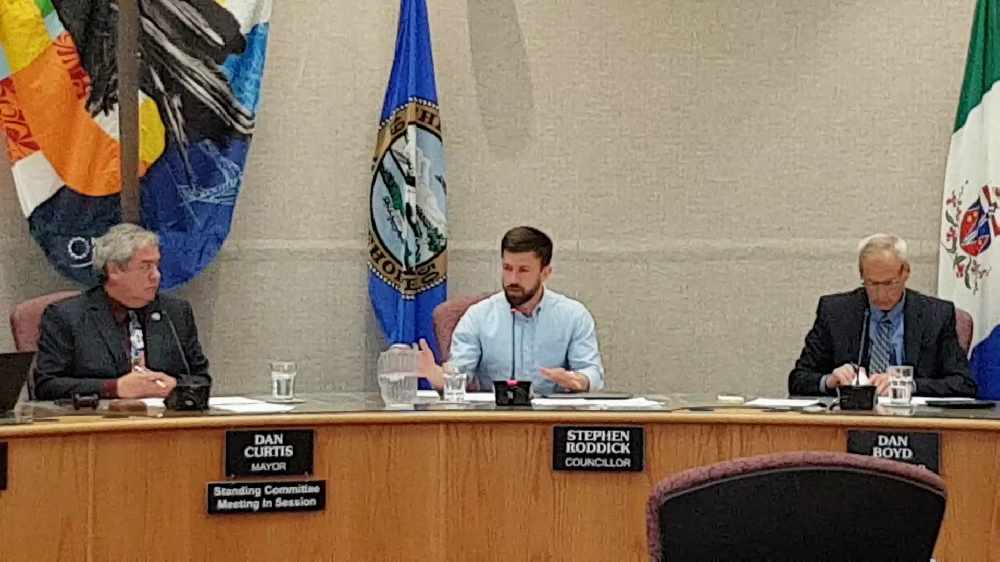 Councillor Stephen Roddick announcing the motion will come back to council next week. Photo: Tim Kuchaurk/CKRW.
Confusion over procedure has city council pushing the debate on whether or not to declare a climate change emergency until next week.
Whitehorse city council will wait a week to debate whether the city should declare a climate change emergency.
Monday night's agenda called for a notice of motion from Councillor Stephen Roddick to be brought forward for debate. Over 20 people showed up in the gallery to hear council debate the motion.
However, City Manage Linda Rapp says there was a procedural issue, and the motion had not received a seconder, so council decided to move the motion to next week.
"Those councillors were not prepared to have that discussion," Rapp clarified for reporters after the meeting. "Whereas others felt that the notice of motion at one meeting meant that it could come forward to the next meeting of council for a discussion."
Roddick says it's unfortunate the motion got hung up on a procedural issue but looks forward to the debate next week.
"I came prepared to have a debate about our climate change emergency and our climate crisis," Roddick told the RUSH. "I think it's unfortunate that with so many people in the gallery and people who wanted to contribute to the discussion, and who gave us some great feedback that we weren't able to have that because we had a disagreement about procedure."
Anticipating a council debate, six members of the public voiced their concern about the environment at the beginning of the meeting and asked councillors to declare the emergency.
As council was hearing public feedback, the House of Commons passed a motion declaring a national climate emergency. That motion also supports the country's commitment to meet the Paris Agreement emissions target.