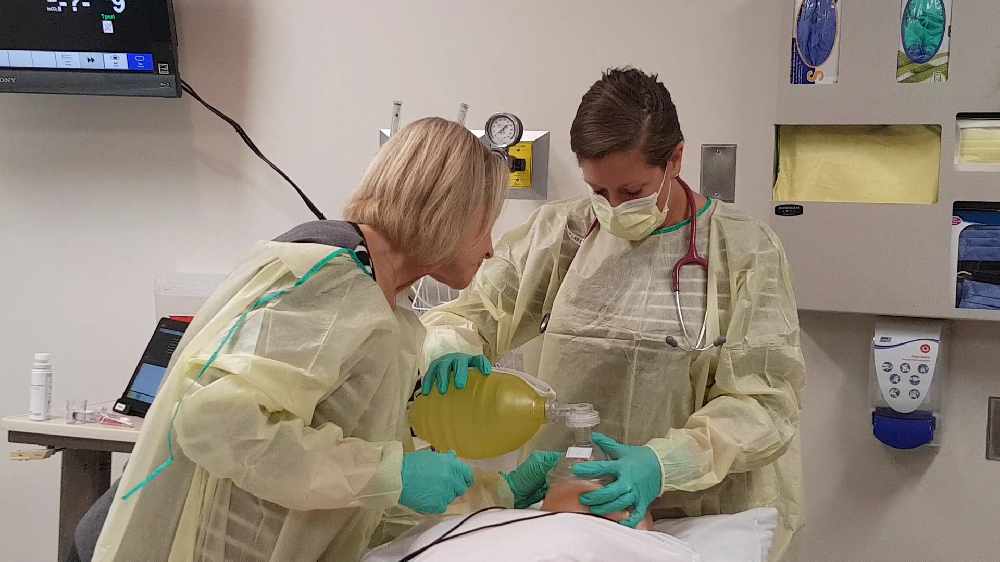 Clinical Nurse Educators Joanne Pare (left) and Sarah Harrison work on 'Chris' an overdose patient during a simulation for media Thursday morning. Photo: Tim Kucharuk/CKRW)
The Clinical Simulation Centre will enable staff and physicians to improve their patient skills and deal with various situations.
A new state-of-the-art Clinical Simulation Centre is now available for Yukon health care workers in Whitehorse.
The centre was officially opened at the Whitehorse General Hospital Thursday morning and features a hospital room with life-like man, woman and baby mannequins along with all the diagnostic equipment needed to simulate any type of patient situation.
Hospital Board Chair Brian Gillen says while clinical simulation is equivalent to clinical training, the centre offers a lot more.
"It offers more interdisciplinary education opportunities to help our teams improve their teamwork, their communication, and ultimately improve patient care," Gillen said. "It is exciting to see how much of this will help Yukoners who walk through our doors."
Clinical Nurse Educator Sarah Harrison says a full simulation will run once a month, with other skills days running two to three times per month.
"We can do multi-family, we can do multi-person traumas, and we can do deliveries, we can do premature deliveries so we can practice with our maternity team," Harrison said. "Then we get to practice with our (emergency room) and (intensive care unit) team and we want to hope to create an interdisciplinary type of program."
Harrison and fellow CNE Joanne Pare ran a simulation with a patient named 'Chris' who was brought in with a possible prescription drug overdose. The two worked on and interacted with 'Chris' until he was stable. 'Chris' even asked where his wife was.
The centre is geared toward staff and physicians within Yukon hospitals and the broader Yukon community.
The new centre was made possible by the Yukon Hospital Foundation who spent two years raising $1 million for the purchase of equipment and to operate the facility.
The centre was made possible by the @YukonHospFDN. The foundation raised $1 million dollars over the past 2 years for the project. pic.twitter.com/uPqEp6UFWn

— Tim Kucharuk (@TimKucharuk) September 12, 2019