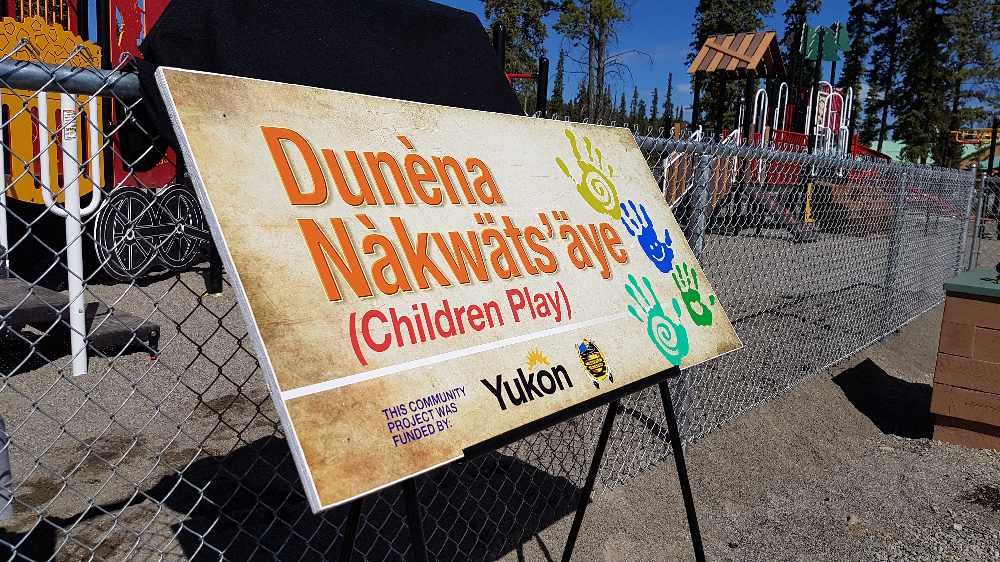 The playground is located right next to a refurbished ball diamond on McIntyre Drive. Photo: Tim Kucharuk/CKRW.
An official ceremony was held Monday as the Kwanlin Dün First Nation opened a new play area with the help of the Yukon Government.
A new playground is welcoming kids and families in the McIntyre subdivision of Whitehorse.
The ribbon was cut on the new $177,850 playground across from the Kwanlin Dün First Nation government offices Monday morning.
Chief Doris Bill says the kids had a part in shaping the playground, including choosing the name Dunena Nakwats'aye, which means Children Play in Southern Tutchone.
"We had a number of meetings where we displayed three options for a playground, and they chose this particular option," Bill said. "They also chose the name, and I think that's incredibly important that it's their playground, and they feel like they had a part in it."
Councillor Sean Smith drummed the kids over to the playground for the ceremony and says the playground, and newly-refurbished ball diamond nearby help create a healthier, safer community.
"Being an urban First Nation is a little bit more challenging," Smith said. "But also the opportunity is there to create different initiatives that have taken place within the larger community and creating a space for our children, our young people to come and engage in positive activities is so vital."
The Yukon Government funded just over $100,000 for the playground, with the First Nation picking up the rest of the cost.
(Below: Councillor Sean Smith (left) with Chief Doris Bill, MLA Ted Adel, and Legislative Assembly Speaker Nils Clarke join kids from the Dusk'a Head Start Family Learning Centre in a traditional dance at Monday's ceremony. Photo: Tim Kucharuk/CKRW.)