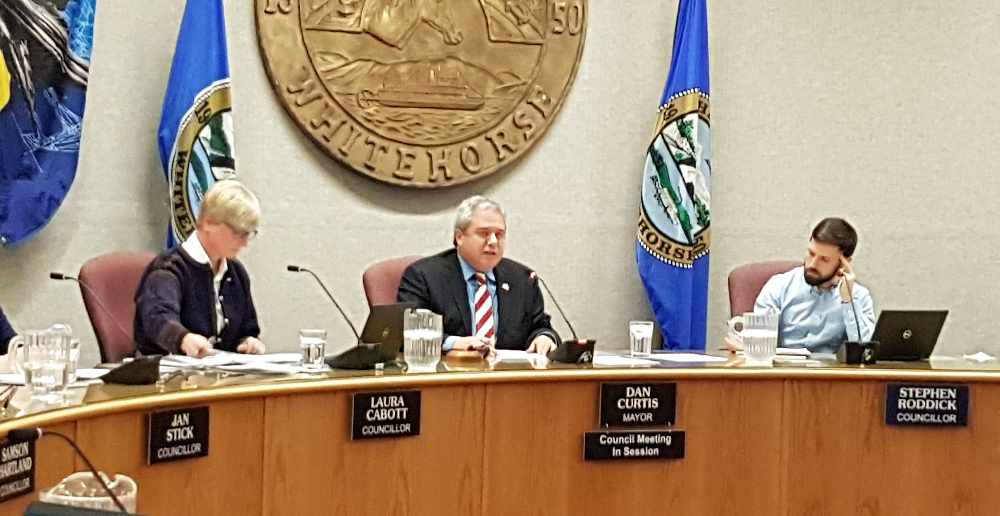 Mayor Dan Curtis at a recent council meeting. Photo: Tim Kucharuk/CKRW.
Dan Curtis hopes the territory's new Motor Vehicles Act will give the city greater ability to crack down on driving infractions.
The mayor of Whitehorse says he's looking forward to the Yukon Government putting in place a new Motor Vehicles Act.
Dan Curtis says the act will give the city the ability to crack down on traffic problem areas such as Second Avenue and Hamilton Boulevard.
"In terms of people not only going too fast, but driving through red lights, and concerns like this," Curtis said. "What we're hoping to do is have those opportunities afforded to us and get some resources to put cameras in, and ensuring people who break the law will get fined justly for it."
He says he doesn't have the power or jurisdiction to start fining people for speeding, adding he's not even sure lowering the speed limit along Second Avenue would help.
"I don't think people are paying attention to what (the speeds) are, and even a lot of people not even knowing what they are," Curtis said. "I guess what we're looking for is trying to work with the traffic engineers and the RCMP in trying to find ways to address the concerns that we have."
He says it's up to all of us to take responsibility and watch out for one another.
Council heard last month the city is working on a Second Avenue corridor study, which should be released shortly, while the city is also embarking on a long-term Transportation Master Plan.
There have been at least two pedestrians hit on Second Avenue in recent months. 48-year-old Merle Gorgichuk died when he was hit crossing Second Avenue at Elliott Street on November 21st.