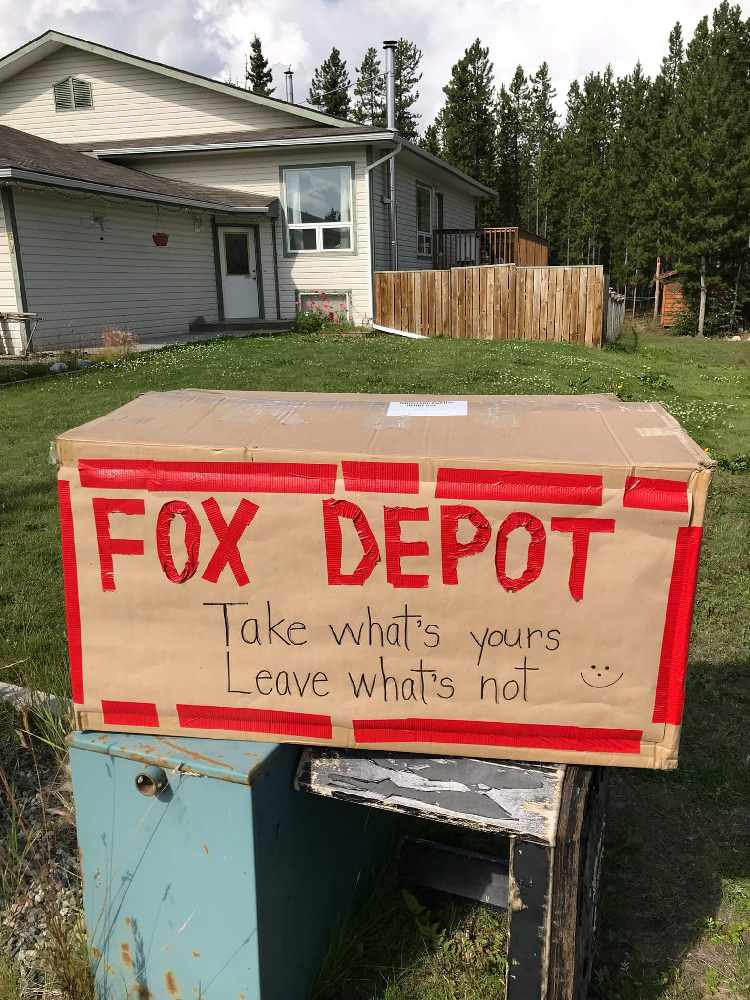 The Fox Depot on Lazulite Drive in Whitehorse. Photo: Monique Levesque/Facebook.
Young foxes are snatching loose property in Copper Ridge and one resident has set up a lost and found bin for relocated items.
Theives are on the loose in one Whitehorse neighborhood, but they are not of the human variety.
Foxes in Copper Ridge have been snatching up shoes, baseball gloves, and anything else that is easily transported. The four-legged robbers are then discarding the goods in abstract places.
Monique Levesque found a bunch of 'stolen' items and wanted to do what any good citizen would do--reunite them with their proper owners.
At first, she thought displaying the items during a recent garage sale would do the trick, but the day after the sale, she found more contraband. With the help of her son and daughter, the aptly named Fox Depot on Lazulite Drive was born.
"I (thought) ok why wait until the (next) garage sale?" Levesque said. "I got the idea, and my son who works downtown grabbed a big box from where he (works), and my daughter came up with the cute name 'Fox Depot' and it kind of turned out."
She would not describe the heists as a problem as it is the Wilderness City.
"So if you leave your smelly stuff outside, well they're pups," she continued. "They're going to go for the stuff and the novelty. Something to chew on (for) their teeth. It's been going on for a few years, but not at the rate that it is this year for sure."
Levesque says since the cardboard box went out last Tuesday, there's been a number of reunification stories, and lots of turnaround. She's also heard of other areas of town seeking to adopt the idea, which she has no problem with.
She hopes something more permanent can be put in place next spring.