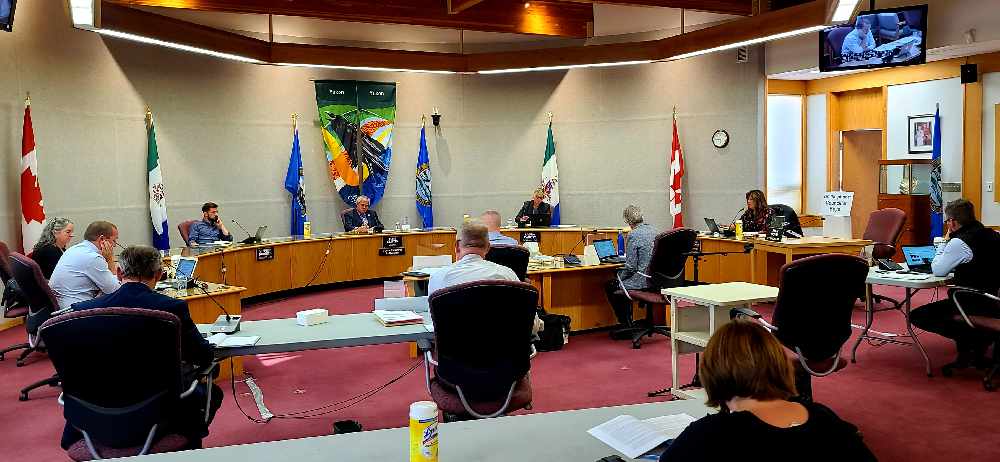 Whitehorss city council on Monday night. Photo: Tim Kucharuk/CKRW.
An application that has been in front of council since the spring would amend a portion of the Tank Farm land from residential to industrial/commercial.
Whitehorse city council is moving closer to changing the Official Community Plan designation for a portion of the Tank Farm land.
At Monday night's meeting, council passed second reading of a bylaw which would change 7.3 hectares of land from residential to industrial and commercial.
Addressing the main concern of the moving of gravel around the site, Development Services Manager Mike Gau told council before the vote, any further work would have to be brought to council on a case-by-case basis or through a development agreement.
"At that point confirm that this type of activity is ok and it would follow some plan and detail that we would get from the proponent," Gau said.
"Ultimately, it would come to council in one form or another, and council would have that greater control."
Speaking about the residents' concern over the movement of gravel, councillor Stephen Roddick says a large volume of rock will have to be moved regardless.
"I don't see a way to develop the tank farm either this portion, or the rest of it without moving a significant volume of gravel," Roddick said.
"The remediation that's been undertaken and may still need to be undertaken has created an uneven and unstable property that needs to be leveled and stabilized before it can be developed."
With council also hearing during the meeting about the lack of commercial and industrial land in the city, many around the council table felt this bylaw would help get such land on the market.
The bylaw will come back to council for third reading at their next regular meeting.