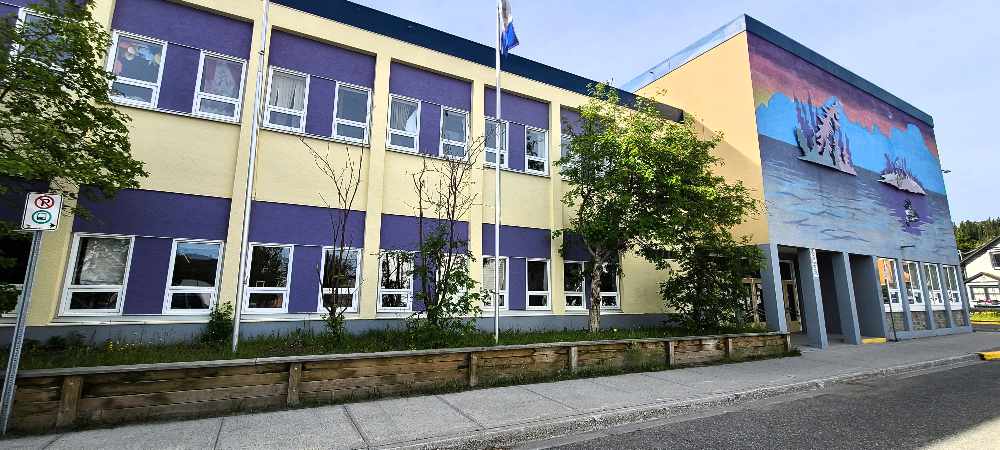 The Wood Street Centre. Photo: Tim Kucharuk/CKRW.
A former teacher says the move from the Wood Street School to Porter Creek Secondary will affect the quality of the program.
A retired teacher says parents and students are heavily opposed to moving the Wood Street School's experiential learning program to Porter Creek Secondary School in Whitehorse.
Former Music, Arts, and Drama program teacher Mary Sloan says the kids who participate in the program already had enough challenges ahead of them with COVID-19, but now they're being uprooted completely.
She says the program won't deliver the same experience to students if it is moved.
"Upstairs they have turned the entire gym into a state-of-the-art theatre with sound equipment and lighting equipment, risers they have just done an amazing job," Sloan said.
"The MAD kids also have three classrooms where they can do mask-making and costume-making."
She says the government should have met with families and students to address the issue.
"How many different ways could we have approached this problem," she said.
"Then people would have had ownership in the decision. Maybe they would have come to the same decision, but people would have felt they had input."
Sloan says Porter Creek Secondary is simply too small to accommodate the program and hopes YG will think about what's best for the kids.
Meantime, Education Minister Tracy-Anne McPhee told the RUSH moving the Mad program could bring new ideas.
McPhee says educators and the department are working to ensure the program is given full support during the transition to Porter Creek Secondary School.
She says temporarily moving the program in order to ensure the health and safety of students during the 2020 to 2021 school year is the new reality of living with COVID-19.
McPhee says it's important that the program continues and plans are being developed to ensure the transition from the Wood Street School is smooth.