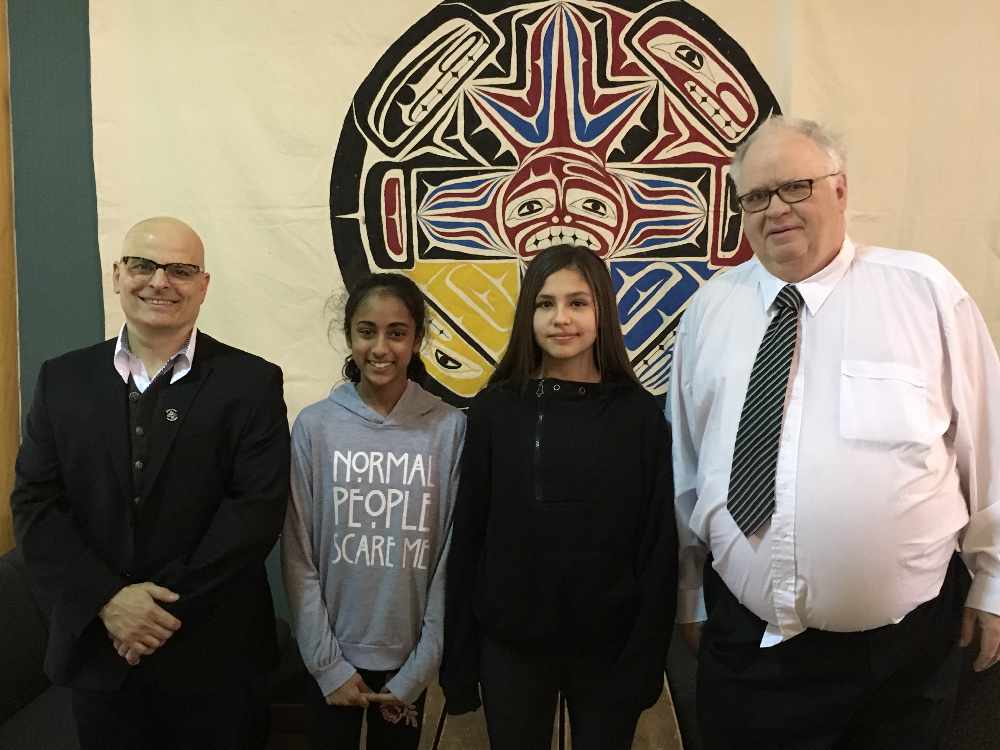 From Left to right; Acting Superintendent of Shcools Souhail Soujah, contest winners Samara Jacob and Kiawna Leas, and Habitat for Humanity Yukon treasurer John Robbins. (Oshea Jephson/CKRW)
Poems from two grade six students have resulted in a $10,000 donation to the Habitat for Humanity Yukon branch.
Poems from two Whitehorse students have resulted in a donation of $10,000 to the Habitat for Humanity Yukon branch.
Grade 6 students Kiawna Leas and Samara Jacob entered the 'Meaning of Home' contest, put on by Genworth Canada, with their class and both of their poems were chosen to receive a $5,000 award and their teacher Robin Fairburn says the poems highlight the differences between the structure of a house and a home.
"A home is your relationships often inside that structure, sometimes outside that structure. Most homes, I would say all homes, have a dichotomy between joy and sadness. It's about being human."
Fairburn says the contest aligned perfectly with what they were learning.
"This was something we were studying in Social Studies in terms of being a citizen and making a difference in your community so I had each of my students write a poem themed home."
There were more than 7,000 submissions in the contest with each submission resulting in an additional $10 donation.
Here are the poems heard during the recognition ceremony Thursday, at Elijah Smith Elementary.
Meaning of Home by Kiawna Leas
Meaning of Home by Samara Jacob