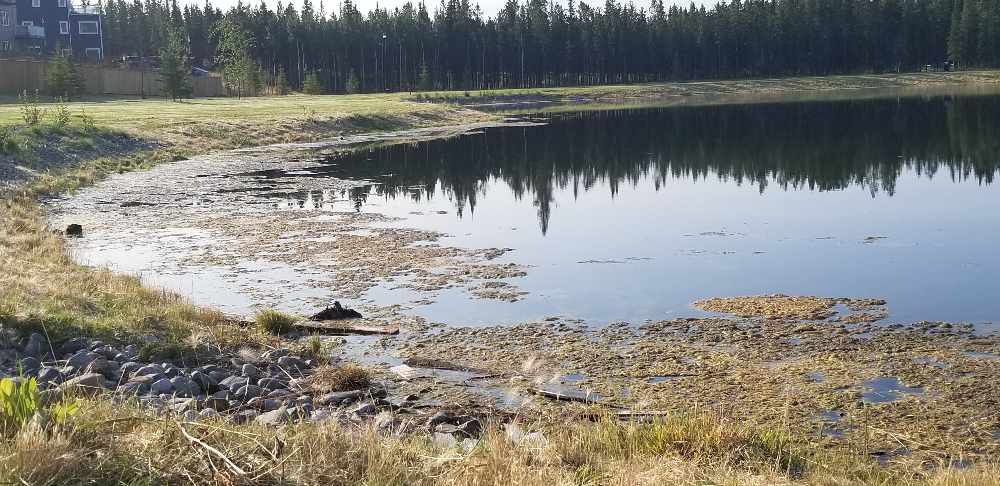 Abnormal algae growth needs to be properly treated, otherwise the ponds function of collecting storm-water may be affected. Photo by John Kennedy / CKRW
The primary function of the pond is to collect and store stormwater from Whistle Bend, but algae growth has interfered with some of its primary functions.
The City of Whitehorse and Yukon Government are trying to stop algae growths from filling the Whistle Bend pond.
Algae in stormwater ponds is normal but managing the nutrient loads, which result in algae production, is an important part of ensuring a healthy aquatic ecosystem.
The Whistle Bend stormwater pond has seen higher than average algae growths along its shoreline, with Yukon Government and the City of Whitehorse taking measures to remove the algae.
Aside from physically removing algae from the shoreline, City officials have been planting aquatic vegetation and applying Algaecide to the water in hopes to reduce the growths.
Both short and long term management strategies to reduce, treat and manage nutrient loading at the pond are being explored by YG.
Government and City Officials are asking residents to do their part by reducing their use of fertilizers in areas around the pond.
Whistle Bend residents are reminded:
The primary function of the pond is part of the overall stormwater system and some algae growth is expected; and
Swimming and other recreational activities in or on the pond were never intended goals and are not permitted.