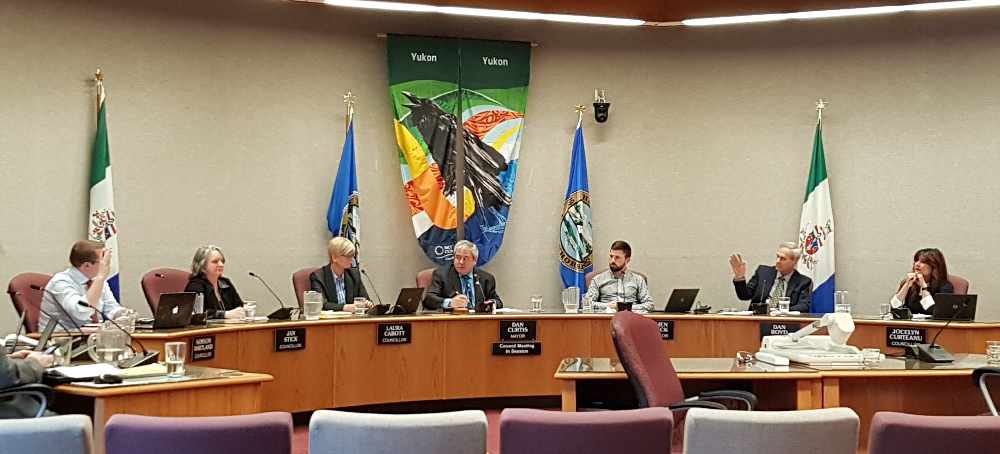 Councillors Samson Hartland and Dan Boyd record their votes Monday night. Photo: Tim Kucharuk/CKRW.
While it is early in the Official Community Plan amendment bylaw process, Valleyview residents are voicing their opposition to the proposed gravel quarry.
An Official Community Plan amendment in Whitehorse which would allow the development arm of the Ta'an Kwäch'än Council to operate a quarry south of Valleyview is now into the bylaw process.
At Monday night's meeting, council also voted 5-2 for the bylaw's first reading, with Councillors Samson Hartland and Dan Boyd opposed.
Before the vote, a standing room only crowd in council chambers of mostly Valleyview residents saw Dr. Richard Runyon speak to studies he had read about the impacts of quarries on residents within 400 metres.
He notes the studies suggest children would need a regulator if they wanted to play outside.
"I'm a bit dismayed if I have to get a regulator for my child to play outside--in Whitehorse--that's a pretty disheartening thing." Runyon said.
Councillor Steve Roddick says more information is needed, as this is the toughest decision he's had to make so far.
"We have an obligation to the First Nations governments with whom we share land and jurisdiction here in Whitehorse." said Roddick.
"We also have responsibilities to make decisions that are in the interest of Valleyview residents, Hillcrest residents, and all Whitehorse residents when it comes to things like quality of life, health, and the enjoyment of their properties and neighbourhoods."
Ta'an Chief Kristina Kane told council the quarry wouldn't be operating for 20 years, but is part of the land's overall development.
A public hearing will be held April 8th.
Council has also requested a public meeting be held before the hearing with the proponents--the Da Daghay Development Corporation.
(The scene in council chambers Monday night. Photo: Tim Kucharuk/CKRW)