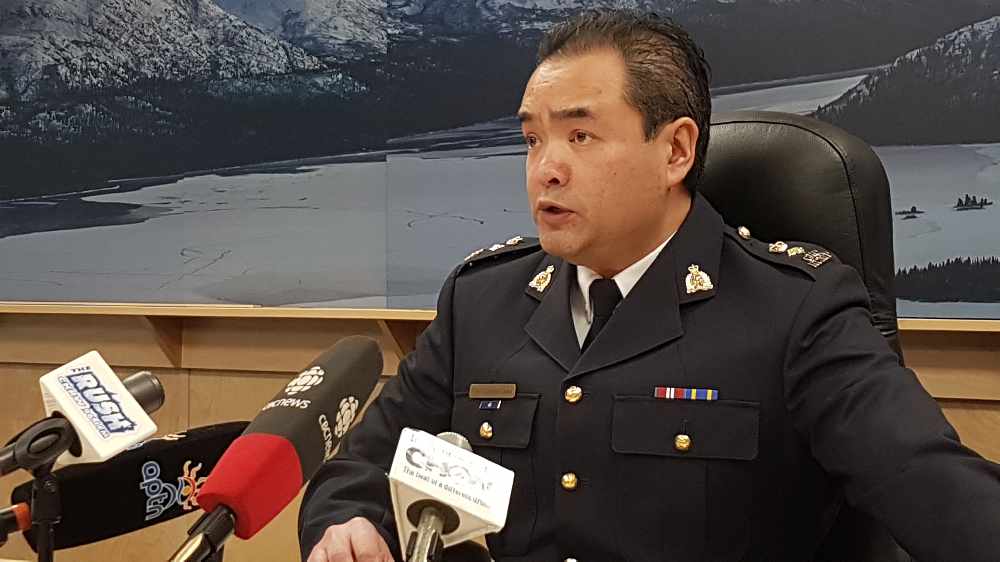 Sgt. Dak Dara answers a question at Tuesday morning's media briefing. Photo: Tim Kucharuk/CKRW.
Police say while the vehicle in Friday's shooting on the Alaska Highway has been recovered, they are still searching for a suspect.
Yukon RCMP say they are still looking for a suspect in Friday's shooting in the Porter Creek area of Whitehorse.
Police were originally called to the Alaska Highway near Centennial Street and Wann Road during the noon hour after getting reports of shots fired. Officers found a car in the ditch which had been shot at. The two occupants of the vehicle were located unharmed.
Officer in Charge of Criminal Operations Superintendent Dak Dara says police are now pursuing two charges of attempted murder in the case.
"Our investigation continues to advance," Dara told reporters. "I'm aware that the possible suspect vehicle has been located by the police within the city of Whitehorse. So we are no longer looking for that vehicle."
Dara says they don't know the suspect's name, as they only have a description of a black male, who is about six feet tall. He says the shooting was targeted and related to organized crime and the illicit drug trade.
He was asked if there's an increase in organized crime in the territory.
"Obviously these shootings are definitely of concern to us," Dara said. "Wherever there's a market for illicit drugs, there will be some form of organized crime present. The Yukon (and) Whitehorse specifically is not immune to that."
He says there was no information to indicate Friday's shooting was connected to a shooting on Jarvis Street in early December.
Dara asks if you have any information on the suspect or the shooting itself you can call police or Crimestoppers.
Supt. Dara's statement to media. Dara also says he doesn't believe there's a threat to the public as the shooting was targeted. pic.twitter.com/Nn6PE8H0Uh

— Tim Kucharuk (@TimKucharuk) January 28, 2020