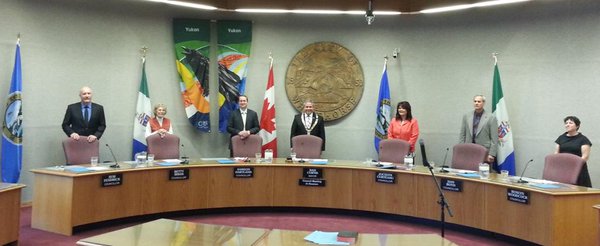 Whitehorse City Council. Photo: Tim Kucharuk/CKRW file.
City is moving final decision on changes to the next council's pay to February, as the Federation of Canadian Municipalities presses Ottawa on tax changes involving municipal politicians pay.
Whitehorse City Council is giving itself more time to determine what the next council will get paid.
At Tuesday's meeting, council voted to change its Remuneration Bylaw so the amount the new mayor and council will be known by the end of February--six months before the election campaign begins.
Mayor Dan Curtis says the city is waiting for clarification from the Federation of Canadian Municipalities about federal tax law changes, which are proposed to tax all of a municipal politicians remuneration.
"They (FCM) just want to see if they could get some more details on how that's moving forward." Curtis said.
"So what we wanted to do is give them the time they deserve to see if they can work with the federal government to see if they can make those adjustments that are amicable to the rest of Canada, and most municipal governments."
Curtis says the city expects to hear back from FCM by February, but if they don't they'll have to proceed.
A proposed bylaw would hike the mayor's pay by $12,000 to just over $100,000, and councillors by $4,000 a year to about $24,000, which after the new taxes, would leave their take home pay the same as the prior term.