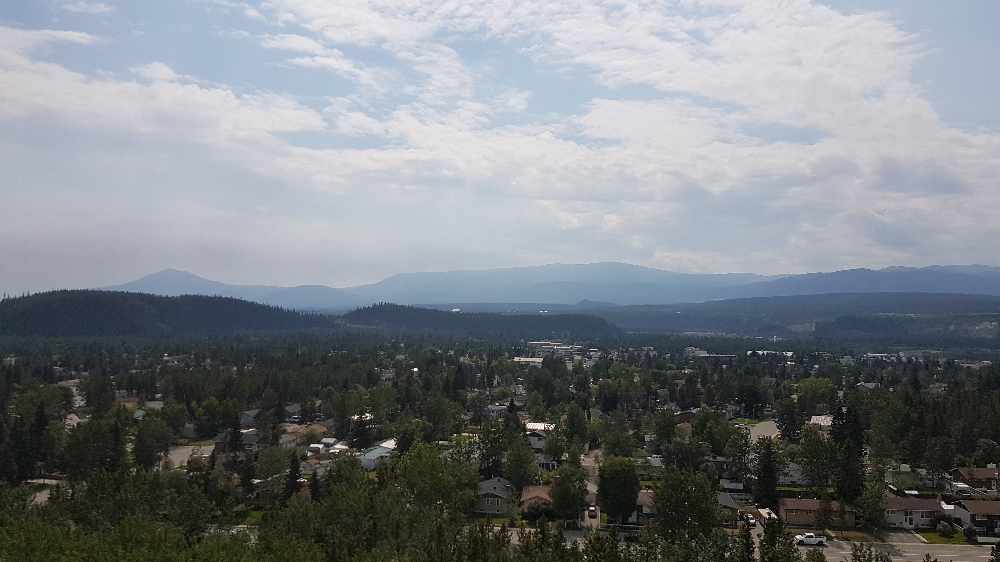 The view from Grey Mountain Road on June 26th as smoke rolls into the Whitehorse area. Environment Canada says temperatures and precipitation were above average in June. Photo: Tim Kucharuk/CKRW.
A meteorologist calls Sunday's thunderstorms which rolled through southern Yukon 'unusual'.
Environment Canada says the Whitehorse area saw an unusually high amount of lightning strikes over the weekend.
Meteorologist Doug Lundquist says 1,100 strikes were recorded within 50 kilometres of the city on Sunday into Monday morning.
"No matter where you live in Yukon, or the B.C. interior, that would be a really extraordinary amount of lightning to get in less than one day perhaps more prairie-like for example," Lundquist said. "Thunderstorms and lightning are not rare in the Yukon in the summer it's just that kind, and that much intense lightning is perhaps unusual."
Lundquist says temperature records were set on Sunday in Teslin, the Kluane Lake Region, Burwash, Haines Junction, and Whitehorse. The capital reached a high of 30.5 degrees, which broke the record of 30.4 set in 1992. Records have been kept in Whitehorse since 1900.
Overall for June, Lundquist says the capital saw an average high of 13.5 degrees, which is 1.2 degrees above average. He said the amount of rainfall was also above average, as the Whitehorse area got 54 millimetres of rain, which is way above the 32 millimetres for the month.
He says July is forecast to see above average temperatures.
Despite all the lightning action, Yukon Wildland Fire Management did not report any new fires in the Whitehorse area. However, at least five new fires were sparked in central Yukon because of lightning activity.