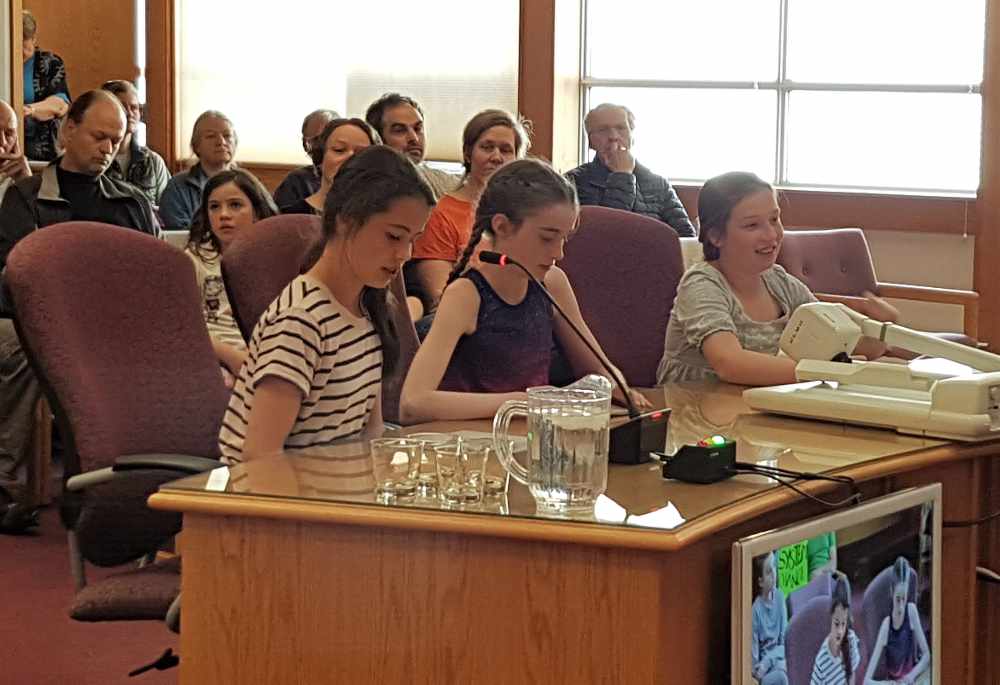 (L to R) Molgat, Sandiford, and MacGillivray make their presentation to City Council Monday night. Photo: Tim Kucharuk/CKRW.
A youth delegation addressed city council Monday night pleading for something to be done to address climate change.
Three Whitehorse youth are asking City Council to take action on climate change.
13-year-old Sophie Molgat, 12-year-old Sylvie Sandiford, and 11-year-old Callah MacGillivray appeared at Monday night's meeting, asking for the city to declare a climate change emergency, and take actions such as creating more bike paths and public transit.
Molgat says there is no planet B, and grown-ups are failing youth.
"We never thought we would have to come here to ask you for help," Molgat told council. "We always thought grown-ups were the models. The ones to be smart. The ones to make good decisions."
"But right now, grown-ups are not the ones we thought they were. Now we are the ones who are being mature and responsible."
MacGillivray told council there should be a ban on single-use plastics in the city.
"Whitehorse can be a leader when it comes to addressing climate change," she said. "It's time to change. We can do this together. The world needs our help. You may think I am little, and I can't change a thing, but I won't stop."
After fielding a few questions from council, Mayor Dan Curtis presented all three with an Honorary Mayor pin.
Curtis told them they could use it to help get their foot in the door when they take the climate change issue to the Yukon Government.
(Curtis presents the pins after the youth's presentation Monday night. Photo: Tim Kucharuk/CKRW.)