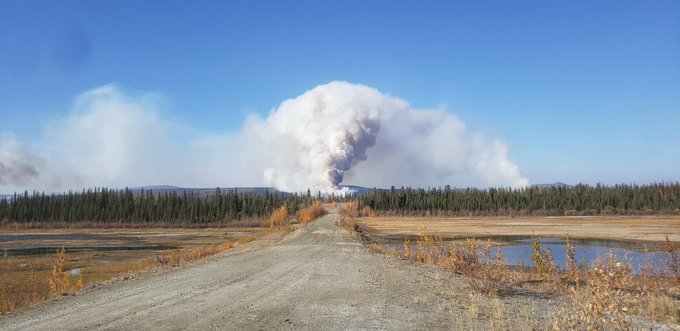 Dry conditions have resulted in fast spread of a wildfire near Stewart Crossing, and the flare-up of the Shanghai Creek fire near Mayo. (pictured) Photo: Yukon Protective Services/Wildland Fire Management.
Yukon Protective Services has an evacuation alert in place for the small community and the surrounding area.
An evacuation alert is in place for the Stewart Crossing area.
Wildland Fire Management says the alert is in place because of a wildfire burning 12 kilometres south of the community at Crooked Creek.
The alert is in effect for the five-kilometre radius around Stewart, to 12 kilometres southeast to Ethel Lake Road, including residences around Ethel Lake. If an order is issued, that means affected residents have two hours to leave.
Fire officials write on social media, fast growth is anticipated, and the wind is expected to move the fire in a northwest direction.
Also, the Ethel Lake Road is closed at the North Klondike Highway as the wildfire has crossed the road. The highway itself is open.
The fire danger rating for the Mayo and Dawson areas is high to extreme, as the territory sees sunny and dry conditions stretching into September.