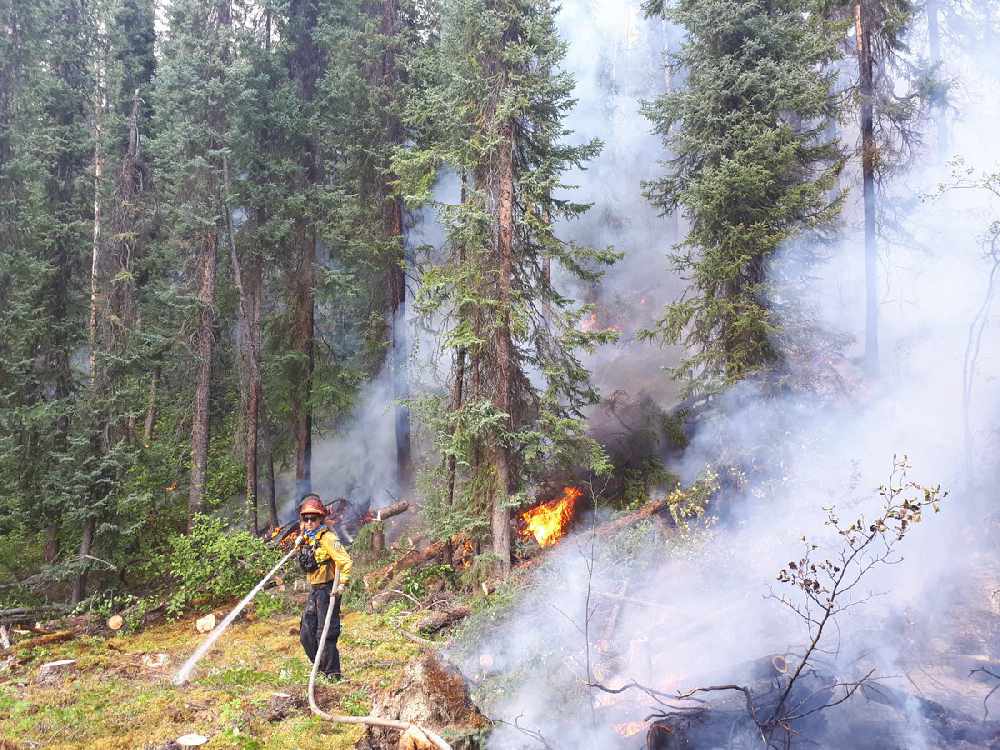 A firefighter takes on the Iron Creek blaze near Watson Lake. Photo: Yukon Wildland Fire Management.
The Yukon Government is taking preventative action against wildfires in the territory.

Firesmart Canada and the Yukon Government are funding over 25 fuel abatement projects for the communities in Yukon.
Plans to reduce and space out tree lines, and clear out underbrush close to communities and homes around the territory are getting underway as a part of a wildfire prevention movement annually undergone by Canadian communities every year.
Wildlands Fire Management Branch Director Damien Burns says the public can help prevent wildfires too.
"Safety and prevention from wildfires begins at home, with how you manage your trees and firewood piles," said Burns.
Director Burns says fuel abatement is an important process in the protection of a community, and have proven to be effective.
Burns added "we've had a chance to gauge the effectiveness of some of these fuel treatments, and they've proven to be very effective. It's important to understand that these FireSmart treatments are part of a larger picture of prevention that we employ in the Government of Yukon."
The Government of Yukon FireSmart program has been funding forest fuel reduction treatments throughout the territory since 1998.
Over the last 20 years, the Government of Yukon has invested approximately $20 million in FireSmart projects.