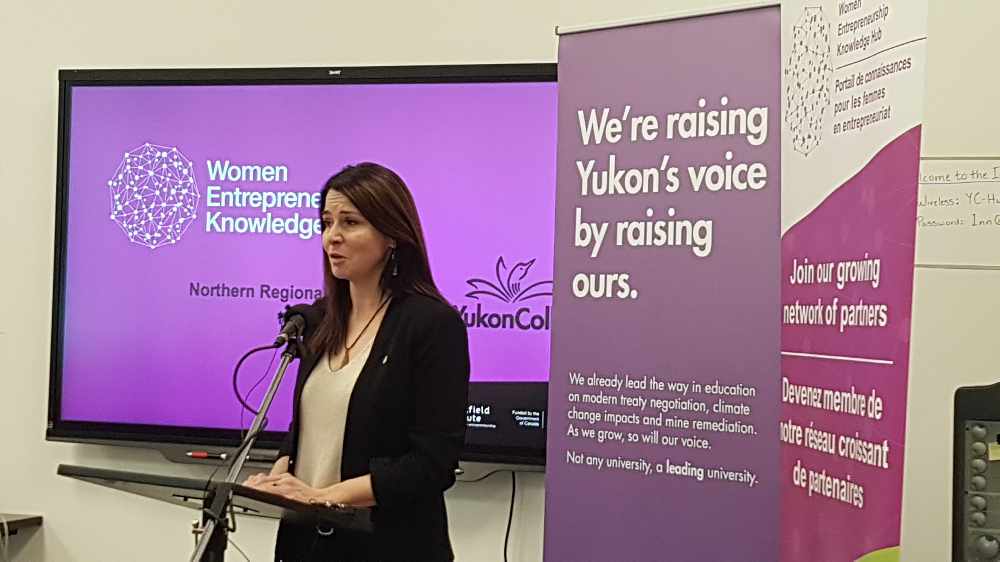 Minister of the Women's Directorate Jeanie Dendys addresses the WEK Hub launch Tuesday morning. Photo: Tim Kucharuk/CKRW.
The hub is one of nine across the country geared toward supporting women entrepreneurs.
A hub focusing on women entrepreneurs is being launched in Whitehorse by Yukon College.
The Women Entrepreneurship Knowledge Hub working out of the Northlight Innovation Hub is one of nine across the country and is being administered by Ryerson University in Toronto.
Yukon College's Innovation and Entrepreneurship manager Lauren Manekin Beille says the funding will help to hire a coordinator and develop programs.
"The development of mentorship opportunities and community, creating programs to advance women in entrepreneurship, and to create a support system and network between all of these hubs across the nation for women entrepreneurs," she said.
Manekin Beille says while there have been previous supports in place, they haven't been well marketed.
"The federal government has heard that," she told reporters. "(They have) really put money and time and energy in backing up the concern that women aren't supported. And if they are supported, women need supports in specific ways to be able to have the same opportunities, same treatment, same funds, and (the) same access to resources as men."
Ryerson received over $8.6 million in funding from the federal government over three years for the hub program.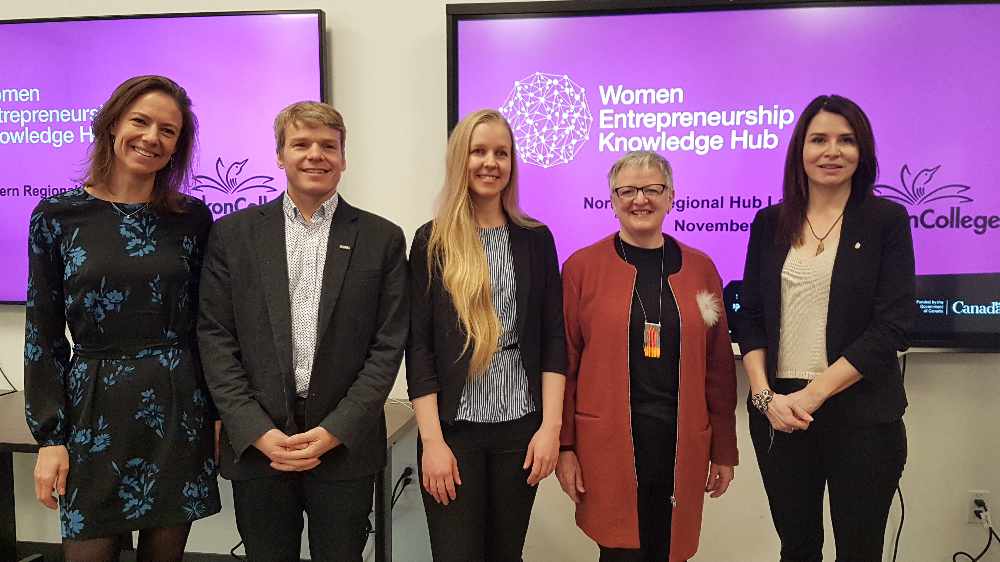 (From left to right: Manekin Beille, CanNor Yukon Director Harry Borlase, Yukon College Innovation and Entrepreneurship Project Innovation Officer Alessia Guthrie, Yukon College president Dr. Karen Barnes, and minister in charge of the Women's Directorate Jeanie Dendys. Photo: Tim Kucharuk/CKRW.)
Manekin Beille says the Whitehorse hub is now working to create a three-year strategy, as it looks to fill a gap and offer more support for women entrepreneurs.
She says for those in the communities, the hub will look to come up with ways on how they can provide that knowledge, which could include reaching out directly. She adds programs could also be 'zoomed out' via the internet.
An official opening was held Tuesday morning, which was directly followed by discussions about the hub. The launch was held in conjunction with the She/Ze conference which is a summit for women leaders in the north.