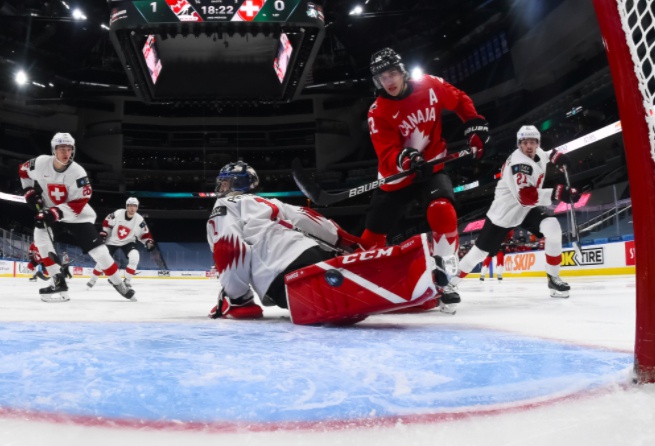 Whitehorse's Dylan Cozens has nine points in his first three tournament games. Photo: IIHF.com
Team Canada has outscored their opponents 29-3 in just three games.
In what was arguably their most complete game of the tournament so far, Team Canada took care of business against team Switzerland, beating them 10-0 in their third game at the 2021 World Junior Hockey Championship.
Philip Tomasino scored just 90 seconds into the game to put Canada up 1-0 early, and although that was the only goal scored in the first period, Canada was clearly controlling the game. Switzerland was outshot 14-3 in the first 20 minutes, hardly testing goaltender Devon Levi.
Early in the second period, Whitehorse's Dylan Cozens poked home a rebound off a Cole Perfetti shot on the powerplay to put the Canadians up 2-0. That kick-started a four goal period in which Canada outshot their Swiss opponents 23-4. Cozens picked up his second point of the night late in the second period, stealing the puck from a Swiss defender before firing a perfect pass to Connor McMichael.
The third period was more of the same for team Canada. 5 goals and a 15-8 shot margin put an exclamation point on a very thorough effort from the entire Canadian lineup, led mostly by 2020 2nd overall pick Quinton Byfield, who picked up 6 points in the win. Byfield, along with line-mate Jakob Pelletier, was dominant for the host country from puck-drop tonight, and was clearly Canada's top performer of the night.
Head Coach André Tourigny spoke about the chemistry his team has developed throughout the tournament.
"That's our team. We don't know which line will produce, but we have four good lines. The offense can come from anywhere."
Canada Player of the Game: Quinton Byfield - 2G 4A 2SOG
Switzerland Player of the Game: Simon Knak - 0G 0A 1SOG
Team Canada faces off against Team Finland on New Year's Eve, in what will likely be the battle for first place in Group A. Switzerland plays Germany on December 30th. They need a win to take the 4th spot in Group and advance to the Quarterfinals.