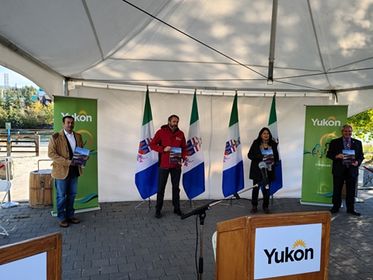 L to R: Ranj Pillai, Sandy Silver, Pauline Frost and Dan Curtis pose for a photo with the new "Our Clean Future" plan. Photo by John Kennedy / CKRW.
A new strategy for climate change, energy, and a green economy in Yukon has been finalized and announced by the Yukon Government.
The Yukon Government is finalizing a strategy for climate change, energy, and a green economy.
The Our Clean Future document released this morning, (Monday) includes 131 actions, increased renewable energy targets, and aims to lower the territory's output of greenhouse gasses by 30 percent by 2030, with the goal of achieving net-zero output by 2050.
Energy, Mines and Resources Minister Ranj Pillai says Yukon will be investing 18.4 million dollars in zero-emissions technology, and industries will continue to adopt new green tech as it becomes available.
"Without delving too much into the details industry, when you're in a position when you're on the grid, you lean heavily on what you have access to. I think we will continue to see more construction companies evolve, the same of which we'll see within extraction companies."
Yukon Premier Sandy Silver says the government of Yukon is responding to increase temperatures and animal migrations from the south with new protected areas that allow animals to move undisturbed.
"In general, species are morning north to remain in their normal climatic range as temperatures warm. We're working to create a network of protected areas and other lands that are connected to one another, it is more possible of species to achieve this migration."
Both the Our Clean Future plan and A What We Heard document on feedback received during the public review of the draft strategy in 2019 is available online.