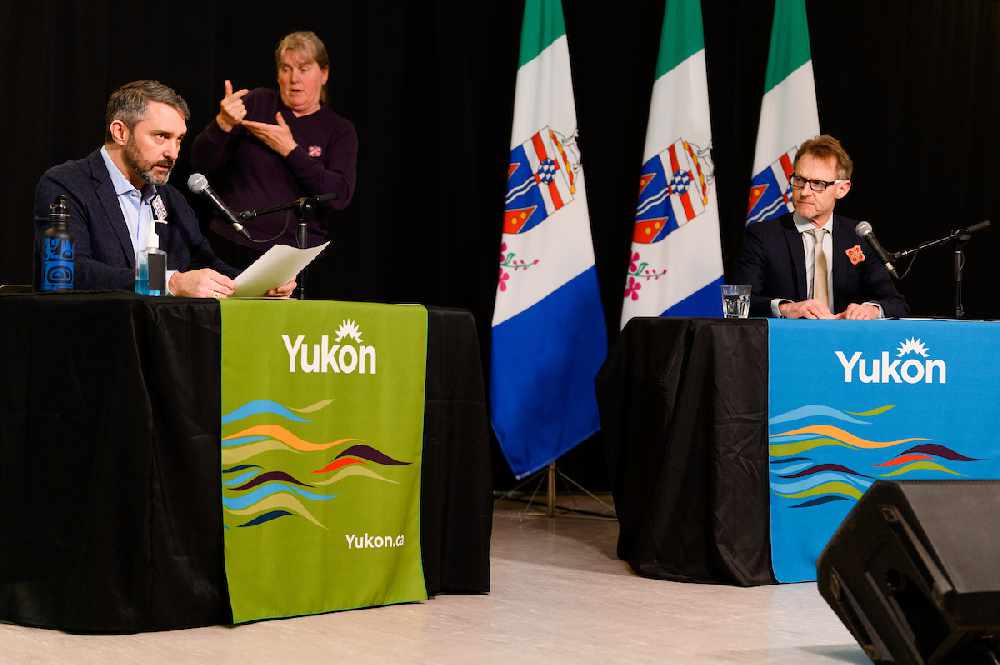 Premier Sandy Silver (left) and CMOH Dr. Brendan Hanley address Tuesday's update. Photo: Alistair Maitland/Yukon Government.
Premier Sandy Silver announces additional funding for those clients who have lost regular services; CMOH Dr. Brendan Hanley discusses breaking the territorial bubble.
The Yukon Government is rolling out further financial supports for clients of disability services.
Premier Sandy Silver announced at Tuesday afternoon's COVID-19 update, the money is for those who would normally get such services through schools, day programs, and recreation facilities.
"An additional $400 per month will be available to disabilities services clients, and also $250 will be available to approved home caregivers each month as well," Silver said.
"This funding will help reduce the financial strain caused by the ongoing pandemic response."
Silver says as more restrictions are lifted, he's hopeful clients will be able to access the supports and services they rely on.
A release says funding can help pay for services such as respite care, child care or housekeeping, or for specialized equipment or supplies.
The additional funding will be provided from June to August. YG says 221 families are accessing supports in the territory, while there are 22 Approved Home Caregivers.
Hanley Talks COVID Plan
Chief Medical Officer of Health Dr. Brendan Hanley told the update he's heard some mixed comments about the plan to move to phase two on July 1st which allows travel from B.C.
"I've heard with some concerned that we're moving too fast," Hanley said. "Why mess with a good thing? We've kept COVID out, shouldn't we expand our social circle here while keeping the wolves outside the door?"
Hanley adds we can not live in this false bubble for long, as the human, health, social, and economic costs are not sustainable. He said each one is an essential part of a healthy society.
He said it's unsustainable to keep the borders closed because it might be a long time before a vaccine or effective treatment is available.
Hanley told reporters Yukon has become an expert in its own right when it comes to handling COVID cases, as we've developed guidelines, grown the territory's PPE supplies, and furthered supports for long term care residents.
As of Tuesday afternoon, just under 1,200 people had been tested. There were five pending results.
(With reporting by John Kennedy.)
Dr. Hanley discusses what he's hearing after Friday's phase 2 announcement. pic.twitter.com/EmCEoAsO2M

— Tim Kucharuk (@TimKucharuk) June 2, 2020