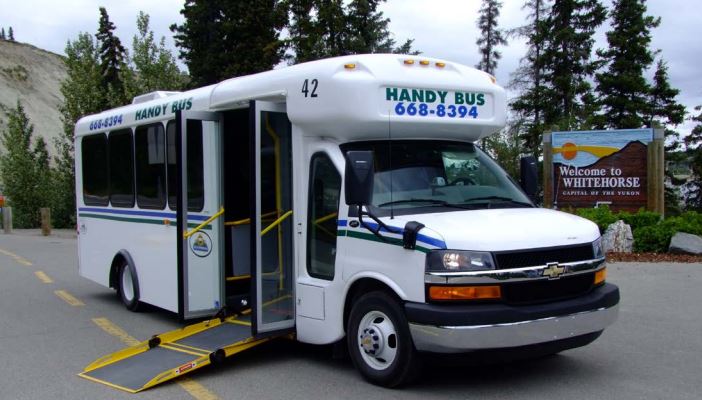 The Whitehorse Transit Handy Bus. Photo: City of Whitehorse.
The city of Whitehorse says it is working to find new funding after the territorial government's agreement expired at the end of March.
The City of Whitehorse is working behind the scenes to secure the future of the Handy Bus.
At this week's meeting, city council heard the territorial government's 75 percent funding agreement ran out in late March.
Transit Manager Cheri Malo told council a solution could involve bringing in a third-party for specialized trips.
"The Handy Bus service would still completely be available to all citizens," Malo said. "This would not change what the citizens would be able to access. This would be more of the back-end and who is actually driving the vehicle."
Malo says the current Handy Bus could also be redeployed as a home-to-hub or micro-transit vehicle to serve lower-density areas of the city.
Community Services Director Jeff O'Farrell says the city has bought themselves some time to come up with a solution.
"We were able administratively to negotiate a nine-month extension to expire on December 31st, 2019," O'Farrell told Monday's meeting. "Our target is to come up with at least the basic parameters of a new funding relationship before the expiration of the existing interim funding agreement."
O'Farrell says the city was given the heads up last year, and discussions are underway with Health and Social Services on a different type of funding agreement for the future.
The Handy Bus was originally a Yukon Government endeavor, and there was some talk around the council table of perhaps handing the service back to YG.
Council expressed their disappointment at the situation and were hopeful a solution could be found.