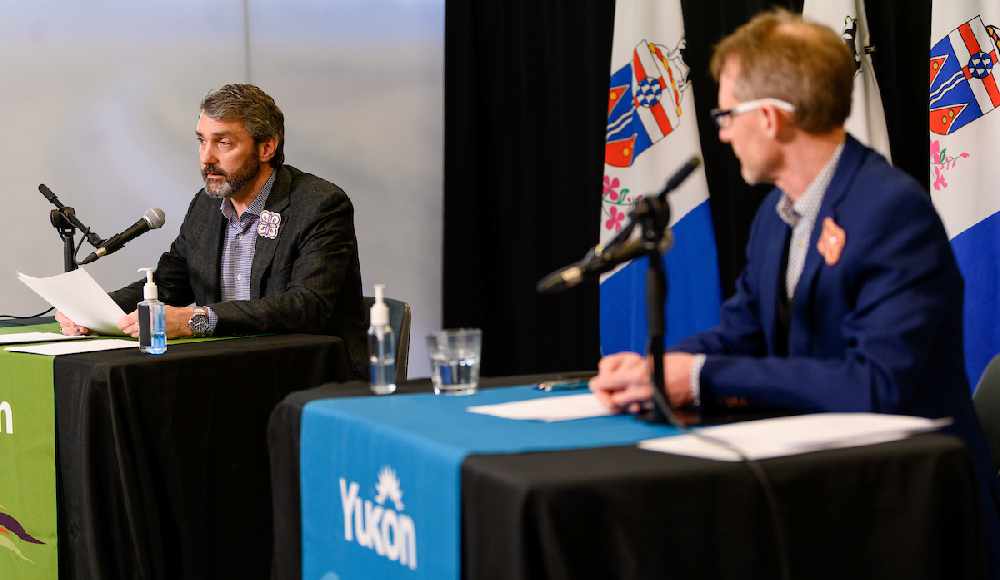 Premier Sandy Silver (left) and CMOH Dr. Brendan Hanley at Friday's briefing. Photo: Alistair Maitland/Yukon Government.
CMOH Dr. Brendan Hanley says guidelines are being provided to services such as chiropractors and physiotherapists; Premier says camping plans on track for early June, announces new non-medical infoline.
The Yukon government says it is providing guidelines to allied healthcare practitioners who are not doctors and nurses to reopen their businesses.
At Friday afternoon's briefing, Chief Medical Officer of Health Dr. Brendan Hanley announced acupuncturists, chiropractors, naturopaths, occupational therapists, osteopaths, physiotherapists, and registered massage therapists can resume services.
"Many of these services closed or reduced services themselves, others were advised to close due to particular risks or circumstances," Hanley said.
"Either way, we appreciate the steps they are taking and their commitment to keeping their clients served and save."
Hanley says his office is also providing guidelines for optometrists, however, dentists will have to wait a bit longer.
He also announced health care workers will not have to self-isolate anymore and will be able to gather outside of work in a social setting of 10 people or less.
Reopening Plans On The Way
Premier Sandy Silver says he knows Yukoners are anxious to hear a reopening plan, and those details will be provided next week.
While he says border measures will be one of the last restrictions removed, he did say campgrounds are on track to reopen June 4th.
He says campers will need to be diligent when it comes to physical distancing. You'll have to keep campers to households only and bring extra water for handwashing.
Silver says they're also working on a plan for movement within the territory.
"We are currently still recommending that people avoid any non-essential travel to other communities," Silver said.
"Over the coming weeks, in close communication with First Nations and municipal government, we will consider how to lift this restriction safely."
Silver also announced a new telephone line for residents to get non-medical information which will be staffed seven days a week. The number is 877 374-0425.
There are no new coronavirus cases in the territory. 11 of 11 cases have recovered. 1,075 people have been tested, and there are 15 pending results.
(With reporting by John Kennedy.)
Hanley on the easing of reopening measures, and an announcement for Health Care Professionals. pic.twitter.com/iguOSKHaZA

— Tim Kucharuk (@TimKucharuk) May 8, 2020