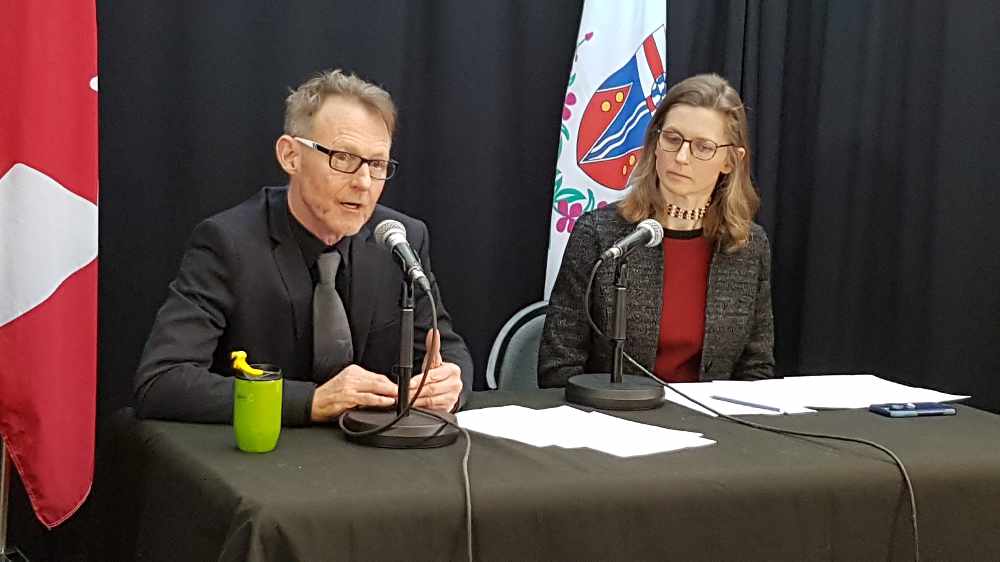 Chief Medical Officer of Health Dr. Brendan Hanley and Deputy Chief Medical Officer of Health Dr. Catherine Elliott give an update Monday morning. Photo: Tim Kucharuk/CKRW.
The nixing of 50 people or more at an event was announced on Monday morning along with other health measures; Premier rolls out stimulus package, airport measures.
Yukon's Chief Medical Officer of Health says there are no confirmed cases of coronavirus in the territory.
Dr. Brendan Hanley made the announcement at a press conference late Monday morning and announced a number of measures to combat COVID-19 including the ban of mass gatherings of more than 50 people.
"Seniors and people with underlying medical conditions should avoid gatherings," Hanley said. "Avoid social gatherings where you can not be separated by two metres or more from others."
"For bars and restaurants, we are asking you to be aware of social distancing rules, and to keep capacity low enough for people to be well-spaced."
Dr. Hanley is also asking parents who are able to keep their kids home from spring break day camps or dayhomes to do so. This also applies to people who can work from home.
He says COVID-19 is in all the provinces, but the territories have not announced a first case. He says it is coming to Yukon and could be here without us knowing.
Hanley says right now, Yukoners have a gift in that there are no confirmed cases in the territory. He says we are at a pivotal moment in Yukon's history, and we need to be 'Team Yukon' in isolation so we can flatten the curve.
Hanley was asked about Sunday's gathering of Yukon Arctic Winter Games athletes and volunteers in Whitehorse. He says socially, it was a very important occasion, and the event was kind of a send-off.
"We knew this was an outdoor event, and we knew we were at a good point in the epidemic," Hanley said. "We again emphasized just before the event with organizers and the public through social media some of the basic requirements."
Hanley is also encouraging anyone who has travelled outside of the territory, or who is feeling sick not to visit hospitals or long-term care facilities.
So far, over 100 Yukoners have been tested, and results are pending for 100 more.
Premier Announces Economic, Airport Measures
Yukon's Premier says measures will be stepped up at the Erik Nielsen Whitehorse International Airport to warn all travellers arriving from outside the country to self-isolate for 14 days.
Sandy Silver told a media briefing Highways and Public Works will roll out the measures starting immediately.
"Making sure we have people in place to make sure that Yukoners who may not have looked at the website or are travelling without knowing the provisions that are necessary as far as self-isolating, that will be invoked right after this meeting," Silver said.
"This announcement allows that work to start."
Silver also announced a $4 million aid package for Yukon businesses to support workers through a 14-day self-isolation with paid sick leave.
He says a grant program will also be established to address expenses for cancelled events, support for tourism and culture, waiving, reimbursing or delaying government fees, and forming a Business Advisory Council to monitor COVID-19 impacts.
Silver also announced all parties have come together to pass several budget-related bills Monday afternoon. The House passed the bills, which garnered no debate. The Commissioner was to give assent later in the day.
NortwesTel CRTC Application
NorthwesTel has applied for temporary Internet usage relief as a part of the response to COVID-19.
In a media release sent out on Monday, the company says they have made an urgent application to the Canadian Radio-Television and Telecommunications Commission.
The utility proposed to waive any overage charges for customers exceeding their Internet usage caps during March and April, as well as create a new unlimited option in cable communities to come into effect in May once the waiver of Internet usage overage fees expires.
In satellite-served communities, where it is not technologically possible to quickly increase capacity, Northwestel has proposed temporarily doubling Internet usage caps.
Northwestel says the proposed changes would only take effect upon approval from the CRTC.
More Events Cancelled
The Yukon Arts Centre has announced that it would be closed to the public until after the Easter long weekend.
In a release sent out early this afternoon, Marketing Coordinator Mike Thomas says the Yukon Arts Centre is taking this preventative measure in the best interest of its patrons, staff, and volunteers, despite there being no known cases in the territory.
Thomas says all scheduled events leading up to the Easter weekend will be cancelled or postponed and the public gallery will be closed as well.
He says refunds for cancelled or postponed events will be determined at a later date.
Meantime, the 2020 Atlin Music Festival has been postponed until 2021.
In a statement released today, The Society Board of Directors announced the decision to postpone in the interest of maintaining health and safety for the community of Atlin.
The board says they want to be clear, this is a postponement, and they will be planning for next year's festival.